This is a revised, updated version of a post originally written on April 21, 2015. We have most seriously updated this list starting at the beginning of 2020.
UCLA Law Professor Eugene Volokh wrote in the Washington Post on April 20, 2015: "Have civilians with permitted concealed handguns stopped such mass shootings before?" We provided Volokh with a list of such cases, which he used.
Below, we have collected news stories on more cases of permit holders stopping mass public shootings with their handguns (we separately collect cases where concealed handguns are used to stop other crimes). There is no reason to believe this list is comprehensive, given how little media coverage is devoted to these heroic acts. In addition, we do not attempt here to list the vast number of defensive gun uses in general that are reported daily in the US.
Permit holders stopped some mass public shootings that gained extensive news coverage, but only a few stories mentioned that a permit holder stopped the attack. The stories frequently get other facts wrong.
A note: Gun control advocates raise the concern that concealed handgun permit holders who stop an attack might accidentally shoot a bystander. They are also fearful that the police might accidentally kill the permit holder. While such incidents are a possibility, they have yet to occur. We probably do not have all the cases where a permit holder stopped a mass public shooting, but if a permit holder were to shoot a bystander, it seems clear that such an event would get news coverage.
[This post has been updated. Cases have only been systematically collected since 2015. Because of the lack of news stories accompanying these cases, we believe we have found a much greater percentage of the cases since 2015 than earlier. But even then, we believe we have a more complete list from 2020.]
Arlington, Texas, September 28, 2023
The suspect, who was a former sales employee before being terminated in the last 30 to 60 days, was armed with a rifle and fired multiple shots into the dealership lobby full of people in Arlington, Texas. When the suspect headed toward the service area, an armed employee told him to leave and they began shooting at each other. The suspect then returned to the parking lot toward his vehicle and was shot in the chest by the police as he pointed the rifle in their direction. Thankfully, no officers, employees, or customers at the dealership were injured in the incident.
Al-Mutairy was shot by officers and taken into custody after he allegedly opened fire at the Vandergriff Honda dealership, 1104 W. Interstate 20, where he used to work before he was terminated, police said…

An employee at the dealership told NBC 5's Vince Sims that a former employee who had recently been fired walked into the new car area with a long-style rifle…

Mann told NBC 5 he then saw the man heading toward the service area.

"One of the service advisors has a gun, tries to defend himself, shoots back at him because he was walking toward the service area, then they get into an exchange. The whole time I'm on the phone with the police," Mann said.

Mann said when Al-Mutairy left the building he was confronted by police officers. The employee said the armed man walked toward officers, still carrying the gun, and was shot by police.

According to Arlington Police, none of the employees, customers, or police were hurt and the only person injured was the gunman…

NBCDFW Staff and Tahera Rahman, "Shots fired at Honda dealership, gunman shot by Arlington police identified," NBC DFW, September 28, 2023.
Nicole Lopez, "Police identify suspect accused in Arlington Vandergriff Honda shooting," Fort Worth Star-Telegram, September 29, 2023.
Las Vegas, Nevada, Friday, June 23, 2023
On Friday, June 23rd, 2023, an employee at Turnberry Towers near Karen and Paradise shot a gunman who walked in and fired shots at the front desk. Fortunately, the employee had a concealed handgun permit and was able to quickly stop the attack before anyone else was hurt
. . . Channel 13 spoke with the resident to get their story. Law enforcement has not confirmed the following details.

According to the resident, a man wearing a helmet had an AR-15 and other weapons when he entered the towers Friday afternoon.

This is when the resident tells us the man fired shots in the area of the front desk, shattering glass which is shown in pictures they have provided to us.

The resident says it was an employee of the towers who stopped the attack, and thinks they are a hero who deserves recognition for stepping in. . . .

KTNV Staff, "Man called 'hero' for stopping shooter at Turnberry Towers Friday," KTNV Channel 13 ABC (Las Vegas), June 24, 2023.
It was a resident. Unprovoked, never had issues with anyone here,just went to his car, grabbed an AK and came back in and shot the front lobby up. Homberto, who works in receiving is a hero. He shot the armed man and saved so many lives. Nobody was injured other than the shooter.

Brianna Dymond, a resident of the apartment building, June 24, 2023.
El Paso, Texas, Wednesday, February 15, 2023
A permit holder stopped a shooter who had shot four people and threatened others. Interestingly, many initial news reports had credited an off-duty police officer with stopping the attack (also here). The suspect apparently had a stolen gun.
Police in El Paso, Texas say that a "licensed-to-carry" bystander shot the alleged gunman who is accused of killing one person and injuring another three.

The suspect, a 16-year-old Hispanic male, is accused of shooting the individuals after a "confrontation ensued" between two groups at Cielo Vista Mall on Wednesday evening at 5:05 p.m.

The El Paso Police Department said the confrontation eventually escalated into a "physical fight," and the 16-year-old pulled out a handgun, fatally shooting Angeles Zaragoza, 17, and injuring another 17-year-old and 15-year-old.

Police say that Emanuel Duran, 32, who is a licensed-to-carry holder, shot the suspect as he was pointing his gun toward the direction of more bystanders.

"As soon as the shooting ended, the 16-year-old suspect began to run and was pointing the gun towards the direction of bystanders, including 32-year-old Emanuel Duran, a Licensed to Carry Holder. As the suspect ran towards Duran and bystanders, Duran drew his handgun and shot the suspect," Duran said. . . .

Adam Sabes, "Texas 'licensed-to-carry' bystander shot El Paso mall shooter as he targeted more would-be victims: police," Fox News, February 17, 2023.
Phoenix, Arizona, Saturday, February 11, 2023
Fortunately, there was a man at this restaurant who was able to quickly stop this attack: "We don't know what Luna's motive was, but were it not for the presence of the armed citizen his attack could easily have resulted in multiple injuries and fatalities."
. . . Detectives who took over the investigation reported that the man who was killed had entered the restaurant with a gun and fired a number of rounds inside the building.

"The man detained and questioned by police was inside the restaurant during this incident and had shot the individual ending this confrontation," Bower said.

The detained man declared it was self-defense and many witnesses supported his statement, police said. . . .

Andrea Morabito, "Man claims self-defense in fatal shooting at Phoenix restaurant, police say,":" Arizona Central, February 12, 2023.
Panama City, Florida, January 11, 2023
As the Gold Nugget nightclub in Panama City was closing, the suspect walked outside. After being locked out of the business and enraged over lost property, he got a firearm from his car and began firing into the club occupied by multiple patrons and staff. That's when a patron who is a concealed weapon license holder intervened and fired multiple rounds, striking the suspect at least once. Officers said the patron's actions were determined to be in self-defense and the self-defense of others.
According to a press release from the Panama City Police Department, officers responded at about 4:15 a.m. to a shooting at the nightclub located at 3901 West Highway 98 in Panama City. They found 36-year-old Angel Alamo-Contreras "suffering from at least one gunshot" wound. He was pronounced dead on scene…

"Through video evidence and witness statements, it was determined that Contreras left the bar as it was closing," the release reads. "After being locked out of the business and enraged over lost property, he retrieved a firearm from his vehicle and fired several rounds into the front door of the establishment. At that time, the business was still occupied by multiple patrons and staff."

Kippel was among those still in the Gold Nugget. The release states he "ran to the front door" and saw Contreras holding the firearm.

"Kippel fired several shots, striking Contreras at least once," the release reads. "Kippel was found to be a concealed weapon license holder and video surveillance confirmed Kippel's statement of the events."…

Chief Smith stated in a press conference Wednesday morning that there will be no charges filed against the suspect. Officers said Kippel's actions were determined to be in self-defense and the self-defense of others…

Nathan Cobb, "No charges in fatal shooting outside Gold Nugget. Police say shooter reacted in self-defense," Panama City News-Herald, January 11, 2023.
Katie Bente and Allison Baker, "One dead after shooting at gentlemen's club," WJHG, January 11, 2023.
Tucson, Arizona, December 18, 2022
The incident started when the suspect was kicked out of the bar because of his disruptive and threatening behavior. He returned shortly after with a rifle and fired a shot into the ceiling. The suspect was shot three times by an armed patron at the bar after he was repeatedly told to put the rifle down but refused. The owner of a local bar credited the armed citizen with protecting the lives of other customers and employees. Multiple media outlets initially reported the shooting as a "bar fight."
A shooting at a bar on Tucson's west side Sunday was initially reported by multiple media outlets as a "bar fight", but Famous Sam's owner Mark Rhude said it was a much different situation that could have been more serious.

Speaking exclusively with News 4 Tucson, Rhude said it was an active shooter situation stopped short by a heroic customer with a gun.

Rhude wasn't at work at the time but based on his staff's account of what happened he said a man at the bar began hurling racial slurs and talking about violence…

Staff was able to get the man to leave but about an hour or so later, just after 6 p.m. on Sunday, the man returned with a rifle and fired a shot into the ceiling…

But then two customers stepped in to try and convince him to drop the weapon. One of those customers was armed with a gun of their own.

"He [the customer] then said drop your gun to the bad guy three times and bad guy wouldn't and he leveled it right at the guy and our customer here, he shot him, apparently three times," Rhude said…

Rhude doesn't encourage people to bring guns into his business but said he's thankful the customer was there.

"He was a hero and I appreciate what he did because he saved you know other customers and our employees, so yeah unfortunate situation but he did good," Rhude explained.

Chorus Nylander, "Tucson bar owner says shooting was self-defense against armed man," KVOA, December 19, 2022.
Chandler, Arizona, December 14, 2022
This attack was stopped at the Amazon warehouse parking lot.
An armed Arizona man is being credited as a "good Samaritan" by police after he shot an active shooter in an Amazon facility parking lot, likely preventing further bloodshed.

Police in Chandler, Arizona, say that 29-year-old Jacob Murphy pulled into the employee parking lot of an Amazon facility on Wednesday morning and opened fire after jumping out of his car," KSAZ-TV reported. . . . .

An armed Amazon worker on the scene saw what was unfolding, and police say he pulled out his gun and fired at Murphy, wounding him.

"He did come to the aid of an individual who was shot by a suspect. So, in that case, I would say he is a good Samaritan," Sgt. Jason McClimans said in a press conference.

According to a statement from police released on Friday, Murphy was found dead in the parking lot when they arrived at the scene, and the investigation has concluded that he died from both the gunshot wound from the armed employee and a self-inflicted gunshot wound.

Police say the shooting victim who Murphy first fired on "is still recovering and will survive."

"As previously released, the Chandler Police Department is not investigating the third male, who came to the victim's aid, as a suspect," the police department said in a statement. . . .

Andrew Mark Miller, "Armed Amazon employee stops shooter who opened fire at Arizona facility: 'good Samaritan'," Fox News, December 17, 2022.
Billings, Montana, November 30, 2022
An unruly 35-year-old customer was reportedly arguing with staff over missing food at the Montana Club and began yelling and threatening others near the restaurant entrance. When the suspect was escorted out, he retrieved a handgun from a vehicle and threatened to shoot. At that point, another armed customer outside the restaurant fired the bullet that struck the 35-year-old in the chest.
A man was shot at the Montana Club after an altercation outside the restaurant at 5:30 p.m. Wednesday…

An employee told police Brusard allegedly ordered some food to go and became irate when he thought some of the food he ordered was missing. He yelled at staff and customers, court documents said, before going to his car to grab bags of food. On his way back into the restaurant, court documents said, he pushed a door into a woman and another argument began between the two. Another customer intervened, and Brusard again went back to his car…

Police spoke with the intervening customer, who told officers he saw Brusard screaming at a woman near the front door of the Montana Club. When the customer stepped behind the woman, according to charging documents, Brusard said he was going to get his gun. The customer watched Brusard go to his car and tuck what looked like a handgun into his waistband.

When Brusard came back into the restaurant, the customer struck him twice before Brusard allegedly pulled out the handgun and pointed it at him. The customer later told police he estimated there was only three feet between himself and Brusard, court documents said. The customer heard a gunshot, then realized it was Brusard who was shot. The customer credited the man who shot Brusard with saving his life.

Investigators found a firearm discarded in the bushes near Montana Club, and soon after identified the 64-year-old man who shot Brusard. The shooter is currently not facing any criminal charges, BPD Lt. Matt Lennick told the Gazette in an email Tuesday, but the investigation into the shooting is still ongoing. Any future charges will be determined by the Yellowstone County Attorney's Office once the investigation is complete…

Paul Hamby, "Billings man charged with a felony after being shot at Montana Club," Billings Gazette, December 7, 2022.
Detroit, Michigan, August 28, 2022
The apparently random shootings all occurred on the west side of Detroit in the span of 2 hours and 25 minutes Sunday morning. A 19-year-old gunman killed three people and injured a man and his dog. When an armed bystander saw the fourth shooting, he intervened and stopped the spree killer by drawing his own gun and firing at the gunman until he fled. The sole survivor of the rampage, a 76-year-old man, said the armed bystander saved his life.
A young man suspected of randomly killing three people on Detroit streets fled when an armed bystander saw him shoot a fourth person and responded with his own gunfire, witnesses told a TV station…

Three people were killed over roughly two hours early Sunday…

The suspect shot a fourth person, an 80-year-old man who was walking his dog, according to police. He survived.

Kaia Maxey-Gholson told the TV station that she witnessed another man fire shots in an attempt to stop the suspect.

She said she believes the suspect would have kept shooting the elderly man "like he did the other victims that morning." …

WXYZ didn't identify the man who intervened but quoted him as saying the suspect "saw my weapon and he went from predator to prey." …

AP News Staff, "Witnesses: Armed bystander prevented 4th Detroit death," AP News, September 1, 2022.
West Palm Beach, Florida, August 7, 2022
A concealed carry permit holder fatally shot a 22-year-old man who brandished a short-barreled shotgun from his car at a family gathering and threatened to fire into the crowd. Police said the suspect refused to drop the weapon after multiple people confronted him. That's when the permit holder fired his weapon, hitting the armed suspect.
. . . According to officers, a 911 call came in saying someone had been shot, the caller also said he shot the person who took a short-barreled shotgun out of a car, threatening to "shoot the crowd up".

After an investigation, detectives say a fight broke out between two women, which turned into a brawl of around 20 people. The suspected gunman was 22 years old and from West Palm Beach, but the name and gender have not been released.

The police department says the 22-year-old refused to drop the weapon after multiple people confronted the suspect.

That's when a 32-year-old man fired his weapon, hitting the armed suspect. The man had a concealed weapon license and remained on the scene with police to cooperate with the investigation. . . .

No charges are pending at this time. . . .

Skyler Shepard, "Bystander shoots, kills person who threatened to 'shoot the crowd up'," ABC News Channel 33 (Birmingham, Alabama), August 9th, 2022.
Greenwood, Indiana, July 17, 2022
The attacker was heavily armed and had already murdered three people and wounded three others when a 22-year-old man legally carrying the gun fatally shot him. About 20 shots were fired. It seems extremely likely that more would have been murdered.
Three people are dead and 3 more are injured after a shooting Sunday at the Greenwood Park Mall. The shooting suspect, who police believe acted alone, was killed soon after by an armed citizen at the mall, police said.

The Greenwood Police Department confirmed Sunday that a lone shooter, believed to be an adult male, entered the food court of the mall around 6 p.m. with a rifle and several magazines of ammo. The suspect then shot into the mall, killing three people and injuring three more.

GPD also confirmed Sunday that the shooter was shot and killed by a Good Samaritan who was armed with a handgun. The man who shot the suspect, identified as a 22-year-old from Bartholomew County, had a legal gun permit and is fully cooperating with police.

The suspect was described by police as an adult male armed with a rifle and multiple magazines. No identification or motivation has been released. . . .

Joe Schroeder, "3 dead, 3 injured in shooting at Greenwood Park Mall, suspect killed by armed citizen," Fox 59 (Indianapolis), July 17, 2022. See also WTHR staff, "4 dead, 2 wounded in shooting at Greenwood Park Mall; police said 'good Samaritan' shot and killed shooter," WTHR Channel 13 NBC, July 17, 2022.
Sunrise, Arizona, July 3, 2022
Two people were murdered and several others were injured by an attack at a large family gathering in Sunrise, Arizona. Raul Mendez, a concealed handgun permit holder who was carrying his concealed handgun at the time of the attack, was able to fatally shoot the attacker, a neighbor, after Mendez had been shot in the head. The above video uses the research that we did at the CPRC, though they don't credit us for that work.
An Arizona man who was shot in the head while attending a Fourth of July party with his family this summer is speaking out about how he was able to thwart the shooter from killing more people with his concealed carry firearm.

"My back was turned. I heard the first gunshot and that's what made me, kind of turn my head … But by the time I even was able to look and see what was going on, a bullet already had struck the side of my face," Raul Mendez recounted to Fox News Digital in a phone interview Tuesday.

Gunshots rang out at a home in Surprise, Arizona, on the evening of July 3 as Mendez, his two daughters and his seven-month pregnant wife gathered with friends and other families to celebrate the founding of America. About 30 people were gathered in the home, including young children, as the group celebrated with fireworks and food . . .

As Hunt continued his alleged rampage, two other women began fighting back against the suspect and screamed for Mendez, knowing he had a concealed carry weapon, Mendez said.

"By the glory of God or the adrenaline and just everything, just the will to live and the will to protect my family, I was able to hear those pleas, those yells for help. I heard my name. And I was able to get up," he said.

He was able to pull out his firearm and shoot the suspect four times in the chest.

Emma Colton, "Arizona man shot in the head at family party credits his concealed carry for saving lives: 'would have died'," Fox News, September 7, 2022.
Charleston, West Virginia, May 25, 2022
Here a man with "an extensive criminal history" started firing an "AR-15 style firearm" into a crowd. Fortunately, a woman who was legally carrying a gun was there to stop the attack.
Police said a woman who was lawfully carrying a pistol shot and killed a man who began shooting at a crowd of people Wednesday night in Charleston.

Dennis Butler was killed after allegedly shooting at dozens of people attending a graduation party Wednesday near the Vista View Apartment complex. No injuries were reported from those at the party.

Investigators said Butler was warned about speeding in the area with children present before he left. He later returned with an AR-15-style firearm and began firing into the crowd before he was shot and killed.

"Instead of running from the threat, she engaged with the threat and saved several lives last night," Charleston Police Department Chief of Detectives Tony Hazelett said. . . .

Butler did have an extensive criminal history.

Hazelett said no charges will be filed against the woman.

Staff Reports, "Police: Woman with pistol killed man who shot at crowd of people in Charleston," WCHS Charleston/Huntington, May 26, 7:07 AM.
From WXIN.com: "While police are crediting an Indiana man with shooting and killing a suspect in the Greenwood Park Mall shooting Sunday, mall policy prohibited him from carrying at all. . . . 'The real hero of the day was the citizen that was lawfully carrying a firearm in the food court and was able to stop the shooter almost as soon as he began,' [Greenwood Police Chief James] Ison said."
"Someone we are calling the 'Good Samaritan' was able to shoot the assailant and stop further bloodshed. This person saved lives tonight. On behalf of the City of Greenwood, I am grateful for his quick action and heroism in this situation." GREENWOOD MAYOR MARK MYERS
Atlanta, Georgia, April 30, 2022
The group of women, including three sisters, were celebrating a birthday at a Cleveland Avenue apartment complex when a neighbor started yelling at them, claiming they disrespected his sister. The suspect then pulled out a gun and started shooting. Four women are injured. One of the victims grabbed her gun and shot the man to death.
Atlanta police said the shooting happened after a fight started at an apartment complex on Cleveland Ave. Saturday night.

Three sisters along with a handful of other family members were celebrating the birthday of one of those sisters when they said a man living in the apartment complex came charging out…

Channel 2′s Tom Regan spoke to a woman who was a part of the celebration and was not shot. She said the man started accusing the group of disrespecting his sister, someone they didn't even know. They said that is when 22-year-old Delano Wells Jr. started fighting with them.

"When we fell on the ground, he got up and got his gun and he shot me in the legs," said another family member. "After than he just started shooting everywhere. Bullets were flying everywhere, everyone was running and falling. it was terrible. Then I found my gun on the ground and I shot back, and I killed him. It wasn't my intention but I had to protect my family".

By the time the shooting stopped, three sisters and one of their niece's had been shot. Wells was dead at the scene. The entire family was thankful for the one family member able to shoot back…

The woman who fired the fateful shots said police told her she will not face charges.

WSBTV.com News Staff, "3 sisters shot celebrating birthday, woman hit 8 times survives," WSBTV.com, May 3, 2022.
South Fulton, Georgia, April 24, 2022
A teenager started firing his gun at multiple people. There was a large number of people present at the park because of an anti-violence riot.
South Fulton, Georgia: . . . Meadows said the men involved in the shootout with Hambrick have been cooperative and will likely not be charged since the teenager fired the first shot.
"After having reviewed most of the witnesses statements, it appears that the decedent Mr. Hambrick discharged his weapon first, and as a result of that there was an exchange of gunfire between him and two individuals," he said. . . .

Fox 5 Atlanta Digital Team, "Charges not likely in shootout that killed teen near 'Stop the Violence' rally, police say," Fox 5 Atlanta, May 3, 2022.
Phenix City, Alabama, April 13, 2022
Two suspects went to the truck shop over a dispute from earlier in the day. One got out of his vehicle and begin to shoot at four people standing outside the business. One of the intended victims with a concealed handgun permit had his own firearm and returned fire, striking both suspects. The business owner Paul Thrasher said "if there would not have been returned fire, he would have advanced on us we would have had a fatality. Thank God for my employees."
A Phenix City business owner believes the military training of one of his employees helped him survive a shootout at his business.

A business owner Paul Thrasher said an argument sparked when two customers refused to pay their bill.

Warrants have been signed for the arrest of both Andrew McDaniel and Justin Lott for attempted murder…

Thrasher said the men left the store in a white car to get the money, but when they arrived, Thrasher said McDaniel started to fight. Officers arrested McDaniel and charged him with disorderly conduct…

Later, Thrasher said he and three employees were standing outside the business when he recognized the white car from earlier that day.

"The driver got out of the car leaned across the top of the car with a pistol and I hollered "He's got a gun" At that point of time the father was shooting from inside the car and the son was shooting across the car at us."…

"If there would not have been returned fire, he would have advanced on us we would have had a fatality. Thank God for my employees."…

After the shootout, no one works there alone now, he said, though he and his workers all have guns they are licensed to carry concealed…

Reagan Ranzer, "Customer's refusal to pay bill leads to shooting at Phenix City business," WTVM, April 15, 2022.
Tim Chitwood, "'Completely senseless.' Phenix City truck shop owner recalls shootout that wounded two," Ledger-Enquirer, April 20, 2022.
Philadelphia, Pennsylvania, March 19, 2022
The suspect got out of a car stopped in the middle of the street and began shooting at a house party with around 100 people inside, mostly temple students. The 30-year-old male homeowner was hit in the stomach and a 19-year-old woman was shot in the foot. Investigators say the suspect had been upset about a car accident earlier in the night. A gun permit holder at the scene fired back.
A gunman wounded two people after pulling out a gun and firing at a house party which was being attended by both students and community members near Temple University, police said.

The wounded included a 19-year-old woman and a 30-year-old man, the latter of which organized the party of around 100 people at a rowhome on the 1800 block of Diamond Street in North Philadelphia, just a few blocks from the university's campus, Philadelphia Police Department Capt. John Walker said…

Police initially said the female victim was 21 and that the gunman used an AK-47 rifle, but they later updated the woman's age and said the shooter used a handgun.

The gunman fired around 13 shots, striking other homes nearby, Walker said. He added that the bullets didn't appear to have pierced the home where the party was taking place…

A man at the scene with a gun permit fired back at least two shots, the police captain said, noting that the second man was being investigated.

The shooting, which happened around 1:50 a.m. Saturday, may have stemmed from some sort of car accident, Walker said, though he did not elaborate…

Rudy Chinchilla, "2 Hurt as Gunman Fires at House Party Near Temple U., Police Say," NBC Philadelphia, March 19, 2022.
Portland, Oregon, February 19, 2022
A homeowner allegedly confronted participants at a racial justice demonstration Saturday night before pulling out a handgun and shooting multiple people in the crowd, leaving one woman dead and several others injured. The shooting ended when a person with the group of demonstrators, who is licensed to conceal carry a firearm, fired back, striking the homeowner in the hip.
The suspect in a weekend shooting that left one woman dead and four people wounded during a protest in Portland, Oregon, faces several charges, including murder, prosecutors said Tuesday.

The shooting unfolded Saturday night after Benjamin Smith, described by police as an homeowner, allegedly confronted a group of demonstrators who were protesting the killing of Amir Locke by Minneapolis police, authorities said…

"Several participants asked Smith to leave them alone. Moments later, Smith drew a firearm and fired at the crowd, striking five people," the DA's office said in the news release…

The shooting ended when a person with the group of demonstrators shot Smith in the "hip area," critically wounding him. Law enforcement originally detained that person on charges of first degree assault and unlawful use of a weapon, both felonies. The Multnomah County District Attorney's Office ultimately decided to bring "no complaint" against the person "based upon our review of facts and evidence."

OPB has chosen not to name the person because they have not been charged with a crime, and they did not respond to multiple requests for comment. Court records show the person is licensed to conceal carry a firearm…

Conrad Wilson and Ryan Haas, "Multnomah County prosecutor charges suspected park shooter with murder," Oregon Public Broadcasting, February 22, 2022.
Jennifer Henderson and Michelle Watson, "Suspect in deadly shooting during weekend protest in Portland faces several charges, including murder," CNN, February 23, 2022.
South Central, Nebraska, October 22, 2021
A man fired from a south central Nebraska grain complex Thursday returned to the facility and started shooting at his former colleagues killing two, and injuring another according to the Nebraska State Patrol.

The gunman, identified as Max Hoskinson, 61, was shot and killed by another employee of the Agrex facility in Superior, Nebraska. . . .

According to investigators, Hoskinson returned to Agrex shortly before 2:00 p.m. and opened fire with a handgun. He was stopped by someone who used a shotgun stored in the Agrex office to shoot the gunman. . . .

"Grain complex worker stops active shooter using shotgun stored in office," KETV, October 22, 2021.
Lancaster, Pennsylvania, October 17, 2021
On Sunday, October 17, 2021, four people were injured after a fight between two teenagers at Lancaster's Park City Center Mall escalated into a shooting this past weekend. A 16-year-old who was illegally carrying a gun started the shooting. But it could have been much worse were it not for a concealed handgun permit holder. Fortunately, 14.4% of adults in Pennsylvania have a concealed handgun permit.
A bystander armed with a gun intervened in a shooting in Park City Center on Sunday afternoon, shooting one of the participants, Lancaster police said.

The unidentified bystander, who legally possessed the firearm, had heard gunshots related to a fight between two males that knew each other, police said. The bystander remained on scene until security and police arrived.

Police said the initial shooting stemmed from an altercation between two males who knew each other and at least one of them — a 16-year-old boy — had a gun.

They, and other people then struggled for the gun and the 16 year old fired at least two shots, striking at least one of the people involved.

The bystander, who had been in a store nearby, heard the shots, came over and "then engaged the subjects fighting over the gun and fired shots, striking one of the suspects." . . .

Dan Nephin, "Armed bystander intervenes, shoots Park City shooter; charges pending against 16-year-old: police," Lancaster Online, October 18, 2021.
Shreveport, Louisiana, September 21, 2021
A man entered the store with a gun and got into some sort of argument with a couple of employees. Then he allegedly pointed the gun at employees and customers, and started firing shots. One of the employees grabbed his own gun and returned fire.
The shooting happened around shortly after midnight at NLB Grocery in the 700 block of W. 70th St.

According to the Shreveport Police Department, 30-year-old Cedric Grant walked into the store and made threats to the employees behind the counter. Then Grant allegedly pulled out a gun and started firing shots.

An innocent bystander was shot in the lower back and taken by a private vehicle to Ochsner LSU Health. He underwent surgery and is expected to recover from his injuries.

Detectives said an employee also pulled out a gun and fired multiple shots at Grant, who was taken to Ochsner LSU Health with several gunshot wounds in undisclosed condition.

Although still in the hospital, at 7:16 a.m. Tuesday, Shreveport police arrested Grant on two counts of attempted first-degree murder and three counts of aggravated assault with a firearm.

Nikki Henderson, "SPD: 2 wounded, 1 arrested in early morning shooting at Shreveport convenience store," KTAL NBC 6, September 21, 2021.
Syracuse, New York, August 31, 2021
The District Attorney credited a property manager with saving the lives of several individuals after he pulled a legally possessed 9mm handgun and fatally wounded a man who opened fire on a crowd outside a building.
Demetrius Jackson, the man killed in the Lodi Street shooting on Tuesday, was in possession of a loaded 9mm handgun while outside of 1808 Lodi Street, District Attorney William Fitzpatrick said.

Jackson threatened multiple people at the location and fired the loaded handgun in the direction of those people, officials said.

Another man, who was on scene and in possession of a 9mm handgun returned fire striking and killing Jackson, Fitzpatrick said.

According to Fitzpatrick, this man has a valid pistol permit for the 9mm handgun.

The District Attorney said in a statement that based on preliminary investigation, it appears the man who shot Jackson saved the lives of several individuals…

The District Attorney's Office is aware that the man who shot Jackson and other witnesses to the incident have received threats and suffered property damage in what they say appears to be retaliation…

Natalie Dascoulias, "Onondaga County District Attorney: Man 'saved the lives of several individuals' after fatally shooting man who fired at crowd," LOCALSYR.com, September 2, 2021.
Melbourne, Florida, August 28, 2021
A quick-thinking Melbourne barbershop owner shot and disarmed a disgruntled customer who returned to the shop with a firearm and pointed it at several people, including customers, barbers, and two young children.
The situation unfolded Saturday at the New York Hair Barbershop on West Florida Avenue in Melbourne…

The owner of the barbershop told Melbourne police Marlon Mascoe, 24, came in and was waiting for another barber to cut his hair. The owner offered to cut his hair instead but Mascoe declined. The owner said he made a joke that he wasn't good enough to cut Mascoe's hair and said Mascoe had "nappy hair like me." The owner said Mascoe appeared upset and walked out.

About 10 minutes later, the owner was cutting another person's hair when Mascoe returned wearing a face mask and holding a black handgun. He also had a hooded sweatshirt pulled over his head, according to the report. The barber said he recognized Mascoe by his "Jamaican accent" and because he had been in the shop just a few minutes prior.

The barber said Mascoe said, "This is real, this is a real gun" and pointed the weapon at barbers and patrons in the shop…

As Mascoe continued to point the gun at people, the shop owner said he retrieved his firearm and ducked behind a barber chair.

The barber said when Mascoe turned, he took the opportunity to shoot him. After Mascoe was on the ground, the barber instructed someone else to call 911, according to the report…

Multiple witnesses confirmed the barbershop owner's account and that they were in fear for their lives…

Police formally charged Mascoe on Thursday at the hospital with displaying a firearm during the commission of a felony, and three counts of aggravated assault with a deadly weapon…

Emilee Speck, "This is chaos:' Barbershop owner describes shooting armed man pointing gun at children, patrons," Click Orlando, September 3, 2021.
Las Vegas, Nevada, August 13, 2021
A fight broke out among a group of people drinking in the parking lot when one person retrieved a handgun from the vehicle and began shooting at the others, injuring six people described as "older teenagers." An unidentified person fired back, striking the initial shooter, who was taken to the hospital and pronounced dead.
About 12:15 a.m. on Aug. 13, Las Vegas police responded to a shooting in the 3100 block of East Sunset Road. One person died of their injuries at Sunrise hospital, Officer Larry Hadfield told FOX5. Five others were transported to the hospital by private citizens.

Police said several people were loitering and drinking in a parking lot when a fight broke out, and that the person who had died had taken a handgun out of a vehicle and started shooting into a crowd, injuring six older teenagers.

Police said at some point, an unidentified person fired back, striking the initial shooter.

Anthony Emilian, 18, died of multiple gunshot wounds, according to the Clark County Coroner's Office…

Homicide logs maintained by Metro show no one was arrested in Emilian's death because it was considered self-defense…

Ashley Casper, "1 dead, 6 teens injured after overnight shooting near Sunset, Pecos roads," FOX 5 Vegas, August 13, 2021.
Sabrina Schnur, "3 arrested in retaliatory murder, Las Vegas police say," Las Vegas Review-Journal, October 26, 2021.
San Antonio, Texas, August 11, 2021
A woman who crashed into a parked car in San Antonio's West Side neighborhood climbed out of her vehicle and began shooting indiscriminately at people who came out of their homes and rush to her aid. The armed resident fired back and shot the driver to death, ending the violent threat to the neighborhood.
Police are investigating a shooting that left two people dead and two others in the hospital. It happened outside a home on the 400 block of Hazel Street on the West Side.

It all started just before 10 p.m. Wednesday night when a driver was traveling at high speed and crashed into a parked car – and then for some reason she got out of the car and started firing.

The owner of the vehicle that was hit, a man in his 50's, and two others came out to see what happened. That's when the female driver got out of the car and opened fire, hitting all three people…

"During the shooting, a neighbor from a nearby residence, intervenes, comes to the aids of the victims, opens fire on our suspect, striking her multiple times," Schuler said.

Schuler said it does not appear that the neighbor who fatally shot Perez will face any charges…

SBG San Antonio Staff, "Woman opens fire and kills man, injures two others after smashing into parked car," FOX San Antonio, August 11, 2021.
Katrina Webber, Tim Stewart, Emily Martin, "Authorities ID woman, man shot and killed in West Side neighborhood," KSAT, August 14, 2021.
Fort Meyers, Florida, July 22, 2021
A man, who was a convicted felon and illegally possessing a gun, fired multiple shots into a crowd before a bystander returned fire. When the bystander confronted the attacker, he stopped attacking and "threw his gun in a parking lot." Fortunately, no one was injured in the attack.
A man was arrested after being accused of shooting toward a crowd before a bystander returned fire.

The Fort Myers PD ShotSpotter detected multiple shots fired Thursday afternoon around 4:20 p.m. in the area of Henderson Avenue and Thomas Street near an abandoned building.

When police arrived, they arrested David Williams, 50, after a struggle and holding him at Taser-point.

Witnesses say Williams had "an object" in his jacket pocket that he began banging on a bench – which turned out to be a gun. They say he did it multiple times before pulling it out and firing toward a crowd of people.

One of the men in the crowd pulled out his own gun and returned fire in the direction of Williams.

The report states Williams then threw his gun in a parking lot. . . .

Staff, "Man arrested for shooting toward a crowd; bystander shoots back," WINK News, July 23, 2021.
Chicago, Illinois, July 4, 2021
It seems likely that if the concealed handgun permit holder hadn't intervened in this case there would have been at least three deaths instead of just the one woman.
The gunman who shot three people standing in a South Austin alley on the Fourth of July may have gotten away with the brazen attack that left a woman dead — had a witness with a concealed carry license not stepped in, a Chicago police statement suggests.

Officers were called to the first block of North Menard Avenue around 10:45 p.m. Sunday and found a total of four people shot, a police notification said. But one of the injured men was alleged to be the gunman who had shot the other three people before an uninvolved witness pulled his own gun and shot the attacker, officials said.

Initially, three people, including a 45-year-old woman, had been shot as they stood outside in an alley, police said. A 33-year-old man approached and "began shooting at the victims," according to the police notification.

The woman suffered a gunshot wound to the head and she was pronounced dead at the scene, according to police. Although officials had said she was 30, around 8:30 a.m. a police spokeswoman said the woman's age had been corrected to 45. . . .

Nearby, a second, uninvolved 49-year-old man witnessed the attack, police said. He had a concealed carry license, which allowed him to legally possess a weapon. That man drew his weapon and shot at the gunman who had allegedly killed the woman and wounded the two men, officials said. . . .

KATHERINE ROSENBERG-DOUGLAS, "3 people shot, man with concealed carry license steps in, shoots gunman, Chicago police say," CHICAGO TRIBUNE, JUL 05, 2021
Arvada, Colorado, June 21, 2021
The attacker and two other people were killed in this attack. This is the one instance we know of where someone legally carried a gun in a non-gun-free zone where a police officer accidentally shot the hero.
A good Samaritan who was killed in a shooting in Arvada, Colorado, . . . "He did not hesitate; he didn't stand there and think about it. He totally heard the gunfire, went to the door, saw the shooter, and immediately ran in that direction," Troyanos said. "I just want to make sure his family knows how heroic he was." . . .

Troyanos said he witnessed Hurley confront the gunman. "Mr. Hurley shot him. I think I heard 6 shots from his gun, maybe 5," Troyanos said. . . .

The police chief said Hurley is a true hero who likely disrupted what could have been a larger loss of life. . . .

KMGH staff, "Witness says good Samaritan shot gunman in deadly Colorado shooting incident," WRTV ABC, June 23, 2021.
Unfortunately, this is the one case that we know of where a person legally carrying a permitted concealed handgun was fatally shot by police later arriving on scene.
The police in Arvada, Colo., said a good Samaritan who fatally shot a gunman who had just killed a police officer was himself shot by responding officers.

Jesus Jiménez and Eduardo Medina, "Bystander Who Intervened in Shooting of Officer Was Fatally Shot by Police," New York Times, June 25, 2021.
Crowley, Louisiana, May 29, 2021
Patrons' attempts to oust an inebriated man from the bar ended in a shootout. Jeno John Holcomb Jr., 18, opened fire toward the gathered crowd, shooting three people, including the woman he came in with. One person in the crowd returned fire and struck the suspect, who then fled the scene and was located in front of a bar nearby with multiple gunshot wounds.
Police reported that, on May 29, a domestic altercation occurred inside City Bar and patrons forced the suspect, identified as Holcomb, to leave the bar.

Holcomb reportedly returned to the bar and was forced to leave a second time, this time by physical force.

Once outside, Holcomb allegedly drew a 9 mm firearm from his waistband and began firing in the direction of the crowd of people, injuring three.

One patron of the bar reportedly went to his vehicle, acquired a firearm and returned fire with his own 9 mm, hitting Holcomb, who was taken into custody outside another bar on North Parkerson Avenue…

Crowley Today Staff, "Charges Filed in May 29 Shooting Outside Local Bar," Crowley Today, June 18, 2021.
Fort Smith, Arkansas, May 15, 2021
Zachary Arnold, 26, fatally shot Lois Hicks, 87, in her apartment and then began shooting at other people in neighboring apartments. Wallace A. West, 58, used a rifle, not a concealed handgun, to stop the attack.
"Mr. West acted lawfully when he shot Mr. Arnold and likely saved a number of lives in the process," a Police Department news release states. "At last count, Mr. Arnold had fired 93 rounds from his semiautomatic rifle before Mr. West was able to stop him. There were no other fatalities or injuries, though a number of residents were home at the time of the assault."

Thomas Saccente, "Prosecutor says deadly physical force justified in Fort Smith shooting," Northwest Arkansas Democrat Gazette, July 29, 2021
Hicks was shot multiple times inside of her apartment by Arnold who was armed with a semi-automatic rifle. Arnold continued to shoot his rifle at neighboring apartments. A resident at the apartments heard the gunshots and got a hunting rifle which he used to shoot and kill Arnold. . . . .

Nayely Palafox, "Fort Smith Police investigate shooting that left two people dead," Channel 5 News (Springdale, AR), May 15, 2021.
Metairie, Louisiana, February 20, 2021
Having murdered two people and wounded a couple of others, it is clear that the attacker intended to kill as many people as possible. The quick response by people with concealed handgun permits stopped the attack.
A person entered a gun store and shooting range in a New Orleans suburb and fatally shot two people Saturday, prompting customers and staff to open fire on the shooter, a sheriff said. The shooter also died. . . . Sheriff Joseph Lopinto said the shooter initially struck two people inside, and then several other people . . .

Stacey Plaisance, "Customers, staff fired back in gun store shooting; 3 dead," Associated Press, February 20, 2021.
"(Williams) became agitated by the request and pulled his gun out of his pants and started firing. Our armed and trained employees, as well as some armed, permitted customers, returned fire and eliminated the threat. One customer as well as one employee perished in the gun battle. Joshua Williams, the gunman, is also dead."

Bob D'Angelo, "Gunman, 2 victims identified in Louisiana gun shop shooting," Cox Media Group National Content Desk, February 21, 2021.
Hickory, North Carolina, February 14, 2021
Jordan Olajuwon Ramseur was shot and killed by a patron as he was shooting at the grouping of people gathered outside of the establishment's front entrance.
No charges were filed in a Valentine's Day shooting outside the Stump Event Center that left one man dead. The Catawba County Sheriff's Office said Monday the case is closed…

Witnesses told investigators Ramseur went to get a gun from his car after he was involved in a fight outside the venue, according to the previous release. Ramseur was shot and killed by someone in the parking lot.

Capt. Aaron Turk said following the investigation, the sheriff's office concluded Ramseur was the first to fire his weapon and shot into the crowd of people.

The Catawba County Sheriff's Office turned their findings over to District Attorney Scott Reilly's office where officials declined to charge the person who shot Ramseur, Turk said.

Turk added that the sheriff's office will not release the name of the person who shot Ramseur since the person was not charged. Turk said that decision is partly for the person's protection.

Kristen Hart, "No charges in Stump Event Center shooting," Hickory Daily Record, June 14, 2021.
Lexington, South Carolina, November 28, 2020
Christopher James Costello, 22, fired shots at people in front of a Pear Court home. A concealed weapons permit holder fired back in defense of himself and the other victims and struck the gunman in the upper torso.
Lexington County deputies have arrested a Cayce man who was shot in self-defense after investigators said he fired first in a Saturday night shooting…

"After taking statements from the victims and witnesses, detectives determined Costello fired a few rounds at people in front of a Pear Court home, including two people he had been following in his car to that location," Lexington County Sheriff Jay Koon said. "We've confirmed one of the people is a former girlfriend of Costello's, another is a concealed weapons permit holder."

The CWP holder returned fire in self-defense and struck Costello in the upper body, according to Koon. Costello's injury is not life-threatening…

ABC Columbia Site Staff, "Suspect arrested after being shot in self-defense by armed victim," ABC Columbia, December 1, 2020.
Marion, South Carolina, November 5, 2020
The suspect, Waldo Crawford, fired shots twice into the crowd, first while driving by and then after parking and walking toward a crowd of people on Jaycee Terrace. During this second confrontation, an intended victim returned fire, striking Crawford.
A man has now been charged with unlawful carrying of a firearm and discharging a firearm into city limits.

The suspect, Waldo Crawford, got the charges after he fired several shots from an assault rifle into a crowd of people Thursday night on Jaycee Terrace in Marion, according to Marion Police Chief Keith Parks.

Chief Parks said Crawford initially drove by and fired shots. He added Crawford then parked his car into a field, walked toward the crowd and then fired his weapon.

Reports say someone in the crowd returned fire and shot Crawford in the leg…

Crawford was then booked into the Marion County Detention Center…

Tonya Brown, "Man arrested after firing gunshots into a crowd in Marion, police say," WPDE, November 6, 2020.
Weslaco, Texas, August 17, 2020
A man upset because of a medical condition was planning to shoot people at a Weslaco, Texas Walmart. Man was "very upset" because he had his plans were stopped.
A Decatur native is being called a hero in plain clothes after his Army background kicked in. . . .

It was Monday, Aug. 17 . . . at the Walmart in Weslaco.

"I just didn't want him to kill innocent people," Allen said as recounted seeing a man walking into the store dressed in black and carrying an AK-47. . . .

While most would retreat and call 911 seeing something like that, not knowing what the man's intentions were, Allen was not about to stand back. He jumped into action.

You're not going to shoot anyone in this store today," he said. "I'm not going to let that happen."

Allen held the man a gunpoint with a store security guard. His actions led to the man putting down the gun. "He was totally surprised. Got him to put the AK-47 down. He was very upset because I had destroyed his plans." . . .

The man who Allen confronted did have another gun on him. Police said he pulled it on officers, and officers returned fire, killing the man. The police chief told media the man was upset over a medical condition.

Chris Carter, "'I chose to not be a victim': Decatur native credited with stopping Texas mass shooting," WAND Television NBC Channel 17, August 20, 2020.
Salt Lake City, Utah, August 15, 2020
The shooting happened around 1:30 a.m. when 27-year-old Gustav Denecamp was reportedly patted down, but then left and re-entered through another door. He began firing several rounds into the ceiling and pointing it at customers, threatening them. A nightclub employee ran to retrieve his own firearm from his vehicle, returned, and fatally shot the armed man to protect others. The nightclub released its own statement on the shooting, stating: "Thanks to the quick actions by an employee to stop the shooter, our patrons and staff were unharmed."
"I think we're very lucky we didn't have more people injured," said Salt Lake City Police Detective Greg Wilking. . . .

Wilking said the shooting began about 1:30 a.m. Saturday when a man initially left the club at 134 West Pierpont Avenue. He came back through another door and began firing a weapon in the air and pointing it at customers according to witnesses.

A nightclub employee then went to his vehicle, retrieved his own gun, and returned and shot the man.

Lee Davidson, "One dead, two arrested following SLC nightclub shooting," Salt Lake Tribune, Aug. 15, 2020.
Dallas, Texas, July 25, 2020, Fox 4 News (Dallas)
Dallas police said three men were shot and a woman was hit by shrapnel when someone opened fire outside a sports bar in North Oak Cliff Saturday night.

The shooter was reportedly among three men who were turned away from Harris House of Heroes II sports bar, just before midnight, because the establishment was at full capacity. . . .

Police said the shooter went to the back of the sports bar, where he was "confronted by armed partrons," and they exchanged gunfire.

The shooter fled before police arrived, and remains at-large.

David Sentendrey, "4 injured in shooting at Dallas sports bar after men not allowed in due to COVID-19 restrictions," Fox 4 News (Dallas), July 26, 2020.
Brownsburg, Indiana, July 16, 2020, WISHTV (Indianapolis, Indiana)
Fortunately, one of the people wounded in this shooting had a permitted concealed handgun and was able to then get out of his car and shoot the attacker. Indiana has 18.5% of the adult population with concealed handgun permits.
22-year-old Joshua Christopher Hayes launched an unprovoked attack against two men working in Brownsburg Cemetery Tuesday around 1:15 p.m. Hayes first chased 36-year-old Seth Robertson to a nearby intersection before he fatally shot Robertson.

Hayes then chased after the second man and shot a third man who was stopped at a traffic light nearby. The third man was legally armed and fatally shot Hayes.

"This tragic event could have been much more disastrous. So, victim three not only saved victim two's life, but he saved potentially the lives of many others," BPD Capt. Jennifer Barrett. "Victim three did exactly what anybody would have wanted him to do at that scene that day."

Travis Robinson, "Mental health issues contributed to fatal Brownsburg shooting," WISHTV (Indianapolis), July 16, 2020.
Selinsgrove, Pennsylvania, July 10, 2020
A prosecutor says a bystander will face no charges for shooting a suspect who authorities said had just gunned down his ex-wife and another man in the parking lot of a central Pennsylvania restaurant last week…

Authorities said the man was waiting to be seated inside the restaurant when a man drove into the parking lot, got out of his pickup truck and opened fire, killing 52-year-old Matthew Bowersox of Mifflinburg and 46-year-old Heather Campbell of Trevorton.

The restaurant customer, who is licensed to carry a firearm, shot and wounded Fernanders as he walked back to his pickup truck. "Thankfully, he helped prevent further bloodshed," Piecuch said. . . .

Erie News Now Staff, "DA: No charges in shooting of suspect after double murder outside Pa. restaurant," Erie News Now, Wednesday, July 15th 2020
Louisville, Kentucky, June 27, 2020 (USA Today)
Steven Nelson Lopez, 23, is facing charges of murder and first-degree wanton endangerment, Louisville Metro Police officials said Sunday after releasing his arrest citation…

Several witnesses identified Lopez, who had frequented the park, as the shooter. And video surveillance showed him shooting a handgun into the crowd, the citation says.

Several bystanders returned fire, shooting Lopez in the leg, according to the citation.

Lucas Aulbach, "What we know about Steven Lopez, the suspect in the fatal Louisville protest shooting," Louisville Courier Journal, June 27, 2020.
Kwethluk, Alaska, May 16, 2020, multiple sources.
This attack appears to have been a well-planned mass public shooting where the attacker had brought multiple guns and a bullet-resistant vest and helmet. The fact that the attacker was charged with four counts of attempted murder shows what might have happened if the armed civilian who stopped the attack hadn't been present.
According to state troopers, a 19-year-old man, Brian Nicolai, broke into the village public safety building dressed for combat. He staged rifles inside, and activated the fire alert system. When village police officers responded, the officers say that Nicolai shot at them. But no one was hurt, largely thanks to an armed resident who got Nicolai to give up his weapon and lie on the ground. . . .

Kwethluk's Public Safety Administrative Chief, Nicolai Joseph, said that a potential mass shooting was avoided on May 16. According to state troopers, Brian Nicolai was wearing a bullet-proof vest and helmet when he activated the village fire alert system. Village Police Officer Tiger Lee was the first to respond to the fire alarm. When he arrived, he said that Nicolai pointed a rifle at him and pulled the trigger. . . .

That resident was Casey Thompson, according to the trooper's report. Thompson, armed with a rifle, was able to get the shooter to drop his weapon, the report said. Thompson declined to talk with KYUK about the incident.

Lee said that he's glad Thompson had a gun . . . .

Greg Kim, "After armed resident thwarts shooting, Kwethluk VPOs consider carrying guns," KYUK, May 22, 2020.
Brian Nicolai, of Kwethluk, is charged with four counts of attempted first-degree murder, third-degree assault, first-degree burglary, third-degree criminal mischief and first-degree criminal trespass. He was arraigned Saturday in Bethel court. . . .

A Kwethluk resident who saw what was happening left the scene, returned with a rifle and talked Nicolai into lowering his weapon. Nicolai lay down on the floor and was quickly subdued by village police officers.
Bethel-based troopers in Kwethluk responded to a report of an active shooter inside the public safety building at 5:18 p.m . . .

Dorothy Chomicz, "Man in Southwest Alaska charged with shooting at police officer," Fairbanks Daily News, May 18, 2020.
Tulsa, Oklahoma, March 27, 2020, Channel 6
A woman named Ashley Porter started firing at a group of people who were standing in a parking lot outside a marijuana dispensary in Tulsa, Oklahoma.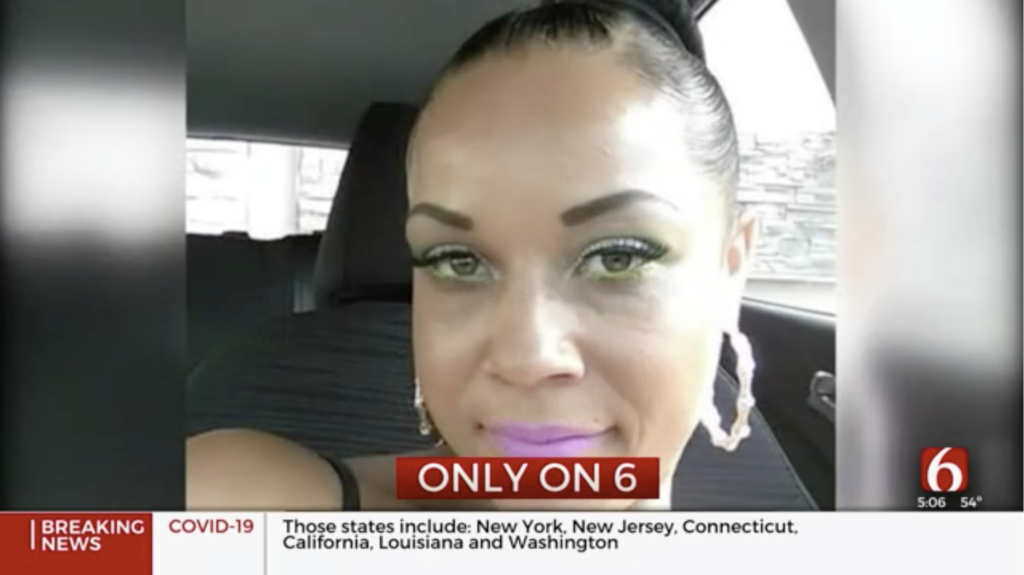 . . . Detectives say Porter got into an argument with someone near a convenience store over a parking spot.

They say surveillance video from the marijuana dispensary next door shows the argument, then Porter leaving in her car.

They say the video shows Porter coming back minutes later and firing shots toward the crowd of people in front of the store.

Detectives say an armed citizen pulled out a gun and fired back, killing porter. . . .

Detectives say the armed citizen was questioned and released. . . .

Reagan Ledbetter, "Family Devastated After Woman Killed In Tulsa," NewsOn6, March 30th 2020.
Additional stories are available here and here.
Near Fort Worth, Texas, December 29, 2019
Note: The above video puts up some options in the top left hand corner that block seeing one of the parishioners who shot the murderer.
Three people, including the shooter, were shot in attack just before 10 a.m. at the West Freeway Church of Christ at 1900 south Las Vegas Trail in White Settlement, which is near Fort Worth. The attacker died at the scene after being shot by two of the parishioners. Four other parishioners also drew their permitted concealed handguns.
The Tarrant county sheriff at press conference after the shooting: "Good people stepped up and stopped it before it got worse."

"The citizens who were inside that church undoubtedly saved 242 other parishioners, and that might get swept aside," Texas DPS Director Jeoff Williams said. "It was miraculous. The true heroes in all this are the people who were sitting in those pews today and responded, the immediate responders … it was truly heroic."
Duncan, Oklahoma, November 18, 2019
There was a shooting at a Walmart parking lot in Duncan, Oklahoma that left two people murdered.
From USA Today (though it is buried in the story): "Aaron Helton, an Army veteran, said he was at the Walmart around 9:45 a.m. when he heard nine shots and saw the gunman, weapon in hand. According to Helton, another man walked up, put a pistol to the gunman's head and told him to stop shooting. Helton said he saw the shooter was turning the gun on himself and looked away."
From CNN, after killing two people in the parking lot, "the shooter shot himself after a bystander confronted him with a firearm."
From KSWO ABC Channel 7 in Oklahoma: "Multiple witnesses have said the gunman shot two people in a vehicle and a civilian with a gun confronted him, causing the gunman to turn the gun on himself. We are working to confirm that story with Duncan police."
Newnan, Georgia, August 13, 2019
This is an amazing story that was caught on video. An employee who wasn't even scheduled to work that day, but was simply hanging around the bar outside in the parking lot, stopped an attack that the police say would have likely resulted in multiple deaths. Note in the cover picture for this video that the bar has multiple gun free zone signs. From Fox 5 in Atlanta:
Deputies in Coweta County say an armed off-duty employee may have stopped a mass shooting at a crowded bar in Newnan Saturday morning.

FOX 5 News has the exclusive surveillance video of the shooting outside Fat Boys Bar and Grill on Highway 16. Deputies say that video shows Kevintez Mathewis on his way into the bar with a handgun when Ben McCoy confronts him and is shot multiple times. He drew the gunman's attention and then drew his fire. . . .
From Channel 11 News in Atlanta:
McCoy heard the shots and grabbed his gun. Investigators reportedly said that Matthewis fired several rounds at McCoy. "He put his life on the line to try and protect the bar that he loves," bar manager Emily McGhin said. . .

Colonial Heights, Tennessee, February 13, 2019
A shooting at a dentist office in Colonial Heights, Tennessee was stopped by Larry Seagroves, a concealed handgun permit holder. After the killer, Harry Weaver, fatally shot one person, Kelly Weaver, his wife, he turned his gun on other people in the office. One of them, a dental hygienist, Sabrina Steal, said: "then he raised a gun to shoot me" (see video). Larry Seagroves shot the killer, wounding him before he could shoot these other people. After the attack, Harry Weaver told the police: "You all wouldn't be dealing with me right now if the hero hadn't stepped in."
WJHL TV Channel 11 in Johnson City, Tennessee reports: "It was just a horrific situation that police said could have possibly been even worse if a patient at that dentist office didn't take action. We are talking about a man identified as Larry Seagroves, a man with a carry permit."
Sullivan County Sheriff Jeff Cassidy said: "He was a concealed carry permit holder and I'm going to call him a hero today."
The court hearing reported in the video took place on March 22, 2019. More information is available here.
Huntsville, Alabama, January 16, 2019
After a man opened fire on employees at a Huntsville IHOP restaurant late Wednesday, one of the workers pulled out his own gun and fatally shot the suspect, authorities said…

The deadly situation started when Turner went to pick up a to-go order before 10 p.m. Police said Turner got into a fight with employees because he was apparently upset about the food service. Turner got a gun and started shooting at employees, killing Brown, police said…

Ashley Remkus, "IHOP employee kills man who fatally shot his father, police say," AL.com, January 17, 2019.
Friends and customers are praising the actions of an IHOP employee after he stopped the gunman who had just killed his dad…

WAAY 31 spoke with people who say they are proud of Jay Brown for taking matters into his own hands before an already tragic situation could become even worse–saying he potentially saved a lot of lives…

"I'm glad he was carrying. I think it's fantastic. I love knowing that the good guys have guns so that, if the bad guys act up, the good guys can protect themselves," Powell added.

Both said they were glad Brown was able to protect the other people who were working and eating inside the restaurant as well.

"It was obviously an incident where a good thing happened because somebody was armed," Powell said. "Obviously, he helped save lives. I would love it if the staff kept weapons."

Scottie Kay, "Friends, Customers Praise Man for Stopping Gunman at IHOP," WAAY TV, January 18, 2019.
Birmingham, Alabama, October 27, 2018
A masked man entered a McDonald's restaurant and immediately started firing his gun. A concealed handgun permit holder returned firing killing the attacker.
"He's my hero," he said. "Because I can only imagine how it would've went if he wasn't armed. We might not be here having this interview." . . .

He said he heard more than 15 shots fired. . . .

— Markus Washington, an employee at the McDonalds', to WAFF Channel 48 News
Louisville, Kentucky, Wednesday, October 24, 2018
The national media has picked up on this story because of the killer, Gregory Bush, is racist, but they are ignoring the fact that a white civilian with a concealed handgun permit stopped the attack. Both the people murdered at the Koger — Maurice Stallard, 69, and Vickie Jones, 67 — were black. Bush had apparently tried to do an attack at a black church before shooting blacks at the Kroger indicates he was trying to kill as many blacks as possible and that the number of blacks killed could have been much worse if it wasn't for the concealed handgun permit holder.
The Louisville Courier Journal reports that after Bush had visited the church:
The first call came into MetroSafe at 2:54 p.m. reporting that shots were fired inside the store. There were reports of "multiple injuries." . . .

According to the Jeffersontown police, the suspect, Gregory Alan Bush, entered the grocery store and "gunned down" the first victim, and then exited the store where he killed the second victim.

While in the parking lot, a citizen who possessed a concealed carry permit engaged with the suspect, according to Jeffersontown police.

"Multiple rounds were fired by both the suspect and the intervening citizen," Jeffersontown police wrote in a statement. "Neither the suspect nor the involved citizen, nor any other bystanders were injured with this exchange of gunfire."

Bush fled the scene in his vehicle. Police located Bush and his vehicle on Hurstbourne Parkway, next to the Stony Brook Center, where he was taken into custody. . . .
Another story on the case notes: "The police chief clarified that . . . the woman killed in the parking lot was shot by the suspect before the exchange [with the permit holder] began . . . ."
Titusville, Florida, August 4, 2018
A shooting at a back to school event for children and their families had a shooting that was quickly stopped by a concealed handgun permit holder. Something between 150 and 200 people (video here puts it at over 200), primarily children, were present at the event.
From Fox 32 WOFL in Orlando, Florida.
Titusville Police still have not released the name of the man who stopped the shooter at a park on Saturday, but they are calling him a hero.

The gunshots still echo across social media, after the emcee at Titusville's Peace in the City event posted a Facebook live video of the shooting. When a good Samaritan carrying a licensed concealed weapon shot the attacker, police say he did the right thing.

"Based on the information that we've gathered," said Titusville Police Sgt. William Amos. "This person stepped in and saved a lot of people's lives." . . .
Here is another statement from the Titusville Police via the Orlando Sentinel on the evening of August 6th, 2018.
Titusville Police are calling the bystander who shot a gunman who opened fire at a park full of kids on Saturday a "hero." On Monday, police said they aren't releasing the names of those involved and said the citizen who returned fire on the suspect won't be facing charges.

"He's a hero," Titusville Police Sgt. Bill Amos said. "This park was filled with families and children and, at that time, it was an active shooter situation for him and he was trained enough to deal with it and he did." . . .
Tumwater, Washington, June 18, 2018
"He is a hero," Adams said. "He took action. I really think more people could have been shot… he saved us all."

A wild rampage at a Walmart in Tumwater, Washington was stopped when three concealed handgun permit holders confronted and killed the attacker. The attacker had carjacked a vehicle that he drove to the Walmart. Once there, the attacker stole ammunition and then went out of the store, continuing to shoot at people. He unsuccessfully tried to carjack another vehicle, seriously wounding the driver. When he attempted to carjack a second car, two armed customers shot dead the attacker.

According to the local Fox affiliate and Fox News, the man who killed the attacker is a pastor with five kids who was out with his family.

More details are available at KOMO News here.
Oklahoma City, Oklahoma, Thursday, May 24, 2018
Two men who had handguns in their cars, Juan Carlos Nazario, 35, and Bryan Whittle, 39, stopped what likely would have been a mass shooting at Louie's Grill & Bar in Oklahoma City. Police Capt. Bo Matthews said: "You can say they're heroes, which is a very good thing to say." Nazario is a security guard, and Whittle was able to legally carry a gun openly without a permit (it is unknown whether he had a concealed handgun permit, though it wasn't necessary for this case). The shooter, Alexander Tilghman, shot at people "from a position outside the front door" of the restaurant. It was from that position that he was stopped by these two heroes. It turns out that Whittle's shot killed the gunman.
From USA Today:
The two, police say, prevented what could have been a deadly attack Thursday night after they armed themselves and took down the shooter, Alexander Tilghman. Both say they don't feel like heroes. . . .
The police captain also said this:
"They were able to shoot the suspect and put an end to a very dangerous situation," Mathews said.
The way that the attack was stopped was described this way:
"Drop the gun!" [Nazario] yelled repeatedly. Tilghman didn't respond. He raised the gun again and fired a round in the parking lot.

Nazario fired two shots. "He just fell to the ground."

Despite a restaurant full of innocent lives potentially saved, Nazario said he doesn't feel like a hero.
"I just can't understand being called a hero when someone's life was taken," he said. "I just did what I had to do. I'm very glad no innocent lives were taken but ultimately, there was a life taken." . . .
Both Alexander Tilghman, the killer, and Juan Carlos Nazario were security guards. We will continue to check whether Whittle had a concealed handgun permit.
The District Attorney issued this statement: "The two civilians who engaged, and ultimately neutralized the threat posed by Tilghman, were justified and compliant with the law when they employed deadly force."
San Antonio, Texas, December 7, 2017 (ABC 13 in San Antonio, Time Magazine)
This case is an exception to all the other cases shown here in that it received national coverage on Time magazine's website. A man with a gun was about to start shooting a father's children as they were walking out of a restroom when the father killed the attacker. This case was also unusual from the other cases above is that the attack was part of some other crime, a robbery. Police stated that the permit holder saved at least several lives. From ABC 13:
. . . Police say the robber approached the father around 8:30 Wednesday night while he was waiting for his kids to leave the bathroom.

That's when the robber pointed his gun at the family.

The father pulled out his own gun and killed the robber in the middle of the dining area.

Police say the father is a licensed carrier. He is not facing any charges.

Officials also say the father saved several lives. . . .
Rockledge, Florida, November 17, 2017 (Florida Today, WFTV.com in Orlando)
Two concealed handgun permit holders stopped an attack at Schlenker Automotive repair shop at 4:30 PM on the Friday after Thanksgiving. The attacker, Robert Bailey, was armed with a .45-caliber handgun and "multiple magazines" and killed one person and severely wounded another in the business' parking lot. Bailey continued shooting inside the shop. From Florida Today:
Two other workers — both concealed weapons permit holders — confronted the gunman and engaged in a shootout that left the suspect wounded. Bailey continues to recover at Holmes Regional Medical Center in Melbourne. . . .
Video here from WFTV stated: "The police say this could have been even worse." "This business was packed today with customers and employees," noted Karen Parks, a reporter at the scene. Parks also reported that the police referred to the permit holder as a "good samaritan."
According to news reports, Bailey had no connection to the auto shop. Indeed, he didn't even own a car. It appears as if Bailey had selected this target simply to kill people.
First Baptist Church of Sutherland Spring, Texas, November 5, 2017
This is another case that involved a rifle.
The armed civilian who used his assault rifle to stop Sunday's mass murder of 26 Texas churchgoers has been hailed, rightly, as a hero, but Stephen Willeford is hardly unique. . . .

The former National Rifle Association instructor who lives next door to the First Baptist Church of Sutherland Spring, Texas, grabbed his AR-15-style rifle after hearing the gunfire and went over to investigate. Confronting the shooter, Devin Kelley, Willeford shot him in the leg and torso before Kelley dropped his weapon and fled the scene in his SUV.

As horrific as Kelley's rampage was, it could have been much worse if it wasn't for Stephen Willeford.

Andrew O'Reilly, "," Fox News, November 8, 2017.Texas church shooting not the first time a good guy with gun takes down mass shooter
Clearlake Oaks, California, October 23, 2017 (FBI report on active shooter incidents for 2016-17)
From the FBI report on page 5. At the first target, the killer was forced to stop his attack because of police arriving at the scene. At the second target, a concealed handgun permit holder forced the attacker to break off his attack.
Antioch, Tennessee, September 24, 2017 (Chicago Tribune, Daily Caller) (the above picture shows a picture of Samson after he received treatment for his minor wound)
A 25-year-old shooter, Emanuel Kidega Samson, killed one person in the parking lot, entered the church, and started shooting. A 22-year-old usher, Robert Engle, tried to wrestle with the shooter, but Samson is a very large bodybuilder, and Engle realized that he was not strong enough to stop him. During the scuffle, Samson pistol wiped Engle causing him to bleed from his head. Samson also shot himself, causing very minor wounds to his chest and arm. Engle then ran to his car and got his permitted concealed handgun. The usher came back into the church and confronted the attacker, holding him there at gunpoint until police arrived. With one dead and seven wounded, the attack could have been much worse.
Don Aaron, a spokesman for the Metropolitan Nashville Police Department, said Samson drove up to the church and shot and killed a woman who was standing near her vehicle in the parking lot. The shooter — who police said was armed with two handguns — then entered the church through a rear door, shooting and wounding six people inside.

At some point, the gunman also pistol-whipped a church usher, causing "significant injuries" to the man, Aaron said. The usher, 22-year-old Robert "Caleb" Engle, confronted the gunman, police said, and during a struggle, Samson was injured with a shot from his own gun. The usher then ran to his car and retrieved a handgun, police said.

Aaron said the usher ensured the gunman did not make any more movements until officers arrived on the scene. "It would appear he was not expecting to encounter a brave individual like the church usher," Aaron said.

Police Chief Steve Anderson praised Engle for intervening: "We believe he is the hero today." . . .
Video of Police Chief Steve Anderson's comments:
He is the hero here. He is the person who stopped this madness in its tracks.
Arlington, Texas, May 3, 2017 (Dallas Morning News)
This attack was stopped before more than one person was killed. Yet, the police spokesman made it clear that the concealed handgun permit holder "prevented further loss of life" and that the killer was "shooting at the front door" at the customers who were fleeing the restaurant. The headline on the Dallas Morning News story was: "'Hero' stopped mass murder by crazed bar patron who was armed to the teeth, police say." Emphasis added in quotes below.
Another story in the Arlington Voice mentioned this:
"Had the Good Samaritan not intervened, there could have further loss of life," Cook said.

Jones did not have a license to carry. . . .
From the Fort Worth Star-Telegram
"because he engaged the shooter there was no further loss of life."
Townville Elementary School, September 28, 2016 (FBI report on active shooter incidents for 2016-17)
From the FBI report on page 5.
Lyman, South Carolina, June 30, 2016 (Fox Carolina)
Just a couple of weeks after the Orlando massacre, man, 32-year-old Jody Ray Thompson, started shooting at others at another nightclub. Fortunately, unlike Florida, permitted concealed handguns were allowed in bars in South Carolina. Before he could shoot a fourth person, the permit holder was able to shoot back, wounding Thompson in the leg.
"His rounds struck 3 victims, and almost struck a fourth victim, who in self-defense, pulled his own weapon and fired, striking Thompson in the leg," Lt. Kevin Bobo said.

Bobo said the man who shot Thompson has a valid concealed weapons permit, cooperated with investigators, and won't be facing any charges. . . . .
Also this
and at least one South Carolina sheriff [is] crediting a man with a concealed carry permit with preventing further violence at a nightclub . . .
Winton, Ohio, Sunday, July 26, 2015, Fox 19 in Cincinnati and Fox News
The shooter in this case directly fired at four different people. Fortunately, because of the permit holder's quick actions, no one was seriously injured.
[Thomas] McCary [62-years-old] was arguing with a woman around 8 p.m. Sunday night and, when the woman's brother, Patrick Ewing, approached, McCary pulled out a .38-caliber handgun and fired three shots at him, Cincinnati police said.

Ewing didn't get hit, but he did get his own gun and returned fire, wounding McCary in the leg. Ewing had a permit to carry a concealed weapon.

Injured, McCary went into his house to get a second gun and, holding a weapon in each hand, he fired three shots in the direction of the woman, Jeaneta Walker, her 1-year-old son and a third man.

Ewing fired at McCary again to try to distract him as the victims fled indoors. McCary squeezed off a few more rounds, hitting no one, before withdrawing into his apartment, Cincinnati.com reported. . . .
Conyers, Georgia, Sunday, May 31, 2015, The Rockdale Citizen
Often it is claimed that citizens who stop mass public shootings don't get news coverage because they stop anyone from being killed. But in this case two people were killed before the permit holder was able to stop the attack.
A customer who fired back at the suspect who killed two people in a Ga. Highway 20 liquor store Sunday afternoon is being hailed as a hero.

Rockdale County Sheriff Eric Levett said at a press conference Monday that Todd C. Scott, 44, a resident of Covington, very likely prevented other customers in the store from losing their lives.

Levett said store video from Magnet Bottle Shop showed that the suspect, Jeffrey Scott Pitts, 36, came in the store Sunday afternoon firing a handgun.

"I believe that if Mr. Scott did not return fire at the suspect then more of those customers would have hit by a gun," said [Rockdale County Sheriff Eric Levett]. "It didn't appear that he cared who he shot or where he was shooting until someone was shooting back at him. So in my opinion he saved other lives in that store."
From the Atlanta Journal-Constitution:
Pitts fled after another patron, Todd C. Scott, of Covington, opened fire with his own hand gun. It is still unclear whether Aikens died before or after Scott returned fire with Pitts, but the sheriff credited Scott with saving lives.

"I consider him to be a hero," [Rockdale County Sheriff Eric Levett] said.
New Holland, Wisconsin, May 5th, 2015, Fox Carolina (cases such as this where the people who stopped the attack didn't fire a gun don't tend to get that much news attention):
FOX Carolina 21: "CWPs likely stopped deaths of children, firefighters"
Firefighters said they may have stopped a massacre after a gunman surprised them at their station Tuesday.

The Aiken County Sheriff's Office said deputies responded to the New Holland Fire Department's Station 2 around 6:30 p.m. for a report of shots fired.

Firefighters said Chad Barker pulled up to the crowded fire station parking lot full of children and firefighters, got out of his car, and began firing in the air and at his vehicle. They say he also pointed the firearm at individual firefighters for lengthy periods of time.

"I came out of the office, saw the man with the gun, told everybody to leave out the back quickly that there was a man in the parking lot with a gun, and I was not kidding," said Gary Knoll, a firefighter for New Holland.

Knoll said he and another firefighter who have concealed weapons permits pulled their guns on the gunman.

Knoll said Barker returned to his vehicle and firefighters carefully followed him with their weapons still drawn. After encouraging Barker to put the gun down, Knoll said Barker ultimately complied and Knoll grabbed the gun. . . .
Chicago, Illinois, April 19, 2015, Chicago Sun-Times
An Uber driver with a permitted concealed handgun stopped what likely would have been a mass public shooting. Police arrived on the scene quickly, but the Uber driver had still already taken care of the situation before they arrived. From Mitch Dudek in the Chicago Sun-Times (April 19, 2015):
An Uber driver put his concealed carry permit to use Friday night when he pulled a gun and opened fire on a man he saw firing a pistol into a group of people on a Logan Square sidewalk, according to prosecutors.

Six blasts from his gun injured a 22-year-old man identified as Everardo Custodio.

Custodio suffered wounds to his shin, knee and lower back . . . Cook County Judge Peggy Chiampas refused to grant [Custodio] bail on charges of aggravated battery with a firearm and illegal possession of a firearm.

The 47-year-old Uber driver "was acting in self-defense and in the defense of others," Assistant State's Attorney Barry Quinn said. . . .

The Uber driver had dropped off a passenger minutes before the shooting occurred, said Uber spokeswoman Jen Mullin. She had no comment on the driver's actions other than to say the company requires all its drivers to abide by local, state and federal laws pertaining to transporting firearms in vehicles. . . .

Police patrolling the area heard the shots and arrived to find Custodio on the ground and bleeding. Police also recovered a handgun found near Custodio, Quinn said. . . .

[The Uber driver is] a registered gun owner who has a concealed carry license. He doesn't face any charges. . . .
Philadelphia, Pennsylvania, March 22, 2015, NBC Channel 10:
A 40-year-old man was inside Falah Barber Shop Inc. on the 600 block of Preston Street shortly before 3 p.m. Sunday when police say he began fighting with another person inside. . . .

The fight quickly escalated and the 40-year-old man took out his gun and opened fire on customers and barbers, police said. , , ,

As he was shooting, another man outside heard the gunfire, ran into the shop and took out his own gun, according to investigators. He then opened fire, striking the 40-year-old man once in the chest. . . .

"The person who responded was a legal gun permit carrier," said Philadelphia Police Captain Frank Llewellyn. "He responded and I guess he saved a lot of people in there."
Darby, Pennsylvania, July 25, 2014
John Lott in the Philadelphia Inquirer (Other details on the case are available here).
The attacker, Richard Plotts, is a convicted felon, which bans him from legally owning a gun. . . .

At Mercy Fitzgerald, caseworker Theresa Hunt was killed when Plotts opened fire during a regularly scheduled appointment with Dr. Lee Silverman. Fortunately, the doctor had his own gun and returned fire, hitting Plotts three times and critically wounding him.

After firing all the bullets in his gun, Plotts still had 39 bullets on him, bullets that he could have used to shoot many other people . . .
According to the Associated Press:
"Without a doubt, I believe the doctor saved lives," said Yeadon police chief Donald Molineux, according to the Associated Press.

"Without that firearm, [the shooter] could have went out in the hallway and just walked down the offices until he ran out of ammunition," Molineux said. . . .
Read more: http://dailycaller.com/2014/07/24/doctor-saved-lives-by-shooting-hospital-gunman/#ixzz4YM9btwcG
Chicago, Illinois, July 7, 2014, from Geoff Ziezulewicz in the Chicago Tribune:
A Gresham man fired on a group of people leaving a party, only to be shot himself by one of the victims, a military service member with a concealed carry permit, authorities said.

The military member and three others were leaving a party Friday night . . .

One of the victims had noticed a cup of liquor on top of her vehicle and asked attendees of a party next door who it belonged to, Hain said.

When she removed it, Denzel A. Mickiel approached her, shouting obscenities and threatening her and her friends, according to Hain and court records. . . .

As Mickiel fired at the victims' vehicle, the military member retrieved his gun and took cover near the vehicle's front fender, according to Hain. Two unidentified people also shot at the group, she said.

The military service member fired two shots and struck Mickiel twice, she said.

A 22-year-old woman in the group was injured by Mickiel in the shooting, suffering wounds to the arm and back, according to court records and Hain.

The four victims escaped the melee in two vehicles as two unidentified people continued to shoot at them, Hain said. . . .
Portland, Oregon, January 11, 2014, Oregonian
Thomas Eliot Hjelmeland, 43-years-old, was ejected from a nightclub, but he returned 30 minutes later with a gun and wearing a mask. He shot the bouncer who had ejected him and shot at others. The bouncer was shot in the head and critically wounded. Two others were also wounded: one patron in the foot and a waitress, who had been standing at the front of the club, in both of her legs. Hjelmeland was on probation at the time of the incident. Given that Hjelmeland was shooting people all around the club, Bouncer Jonathan Baer, a concealed handgun permit holder who fatally shot Hjelmeland, appears to have had good reason to fear that other people at the front of the club would also have been shot by Hjelmeland.
Here is a February 1, 2014, article in the Oregonian.
Baer, 31, followed the masked gunman out of the club's interior doors to the entrance foyer and drew his own Glock .40-caliber pistol from his hip. He looked back one or two times to check on Rizzo, who hadn't gotten up.

While using one foot to prop open the club's inner door, Baer said he saw the masked man reach the front door. The man stopped and looked as if he were going to turn around. Baer said he leaned forward and fired two to three rounds.

Baer, who has a concealed handgun license, . . .

Baer later explained to detectives that he had thought about two dancers and two customers who were standing outside the club smoking. He said he didn't want anyone else to get hurt. . . .
And this January 21, 2014, article in the Oregonian.
Club co-owner Connie Barnes said she did not know Baer was armed that night, but she called him a hero.

In a Facebook post, Baer wrote, "I did what I felt was right to stop the shooter…I carry every day, and will continue to, and will so with the hope that I will NEVER have to pull it out again." . . .
Plymouth, Pennsylvania, September 2012
The article by Bob Kalinowski Citizensvoice.com states:
. . . It's the gun prosecutors said Ktytor used to put an end to a 26-year-old man's shooting rampage on Sept. 9, 2012 in Plymouth.

Ever since Ktytor, who has a concealed carry license, dropped the killer with several shots on Main Street in Plymouth, . . .

In October, the murder suspect, William Allabaugh of Plymouth, pleaded guilty to third-degree murder and attempted murder, then was sentenced to 25 to 50 years in state prison.

Authorities say Allabaugh critically wounded Stephen Hollman, 30, by shooting him in the head inside Bonnie's Food and Spirits on Main Street. A short time later, Allabaugh fatally shot Scott Luzetsky, 39, outside the bar. Police said both victims were innocent bystanders who didn't provoke the attack by Allabaugh, who was angered he was being kicked out of the bar.
More importantly, see this (emphasis added):
"The video footage and the evidence reveals that Mr. Allabaugh had turned around and was reapproaching the bar. Mr. [Ktytor] then acted, taking him down. We believe that it could have been much worse that night," Luzerne County A.D.A. Jarrett Ferentino said.
Early, Texas, August 2012, KTXS ABC Channel 12:
An armed citizen, Vic Stacy, shot and stopped a deranged man who had just murdered two neighbors and was firing at police with a rifle. Stacy made a very long shot with his revolver, three times as far as the perpetrator was from the police officer, who had an AR-15 type rifle.
Santa Clara, California, July 26, 2012, Reuters:
Salt Lake, April 27, 2012, ABC Channel 4
he Original story is no longer available, but this is its content:
Aurora, Colorado, April 2012, Fox 31 Denver by Tammy Vigil:
Kiarron Parker rammed his car into another in the church parking lot, got out and attempted to kill multiple church members. He was only able to kill one before a member of the congregation, the nephew of the lady killed, and an off duty police officer, drew his handgun and shot Parker, stopping the killing.
Spartanburg, South Carolina, March 2012, article by Jenny Arnold at GoUpState.com (see also here):
Oklahoma City, December 2009, KWTV NEWS Channel 9:
Richmond, Virginia, July 2009 (this first description is based on a video of the shooting and a talk on the attack is here):
The gun owner was in the store [the Golden Market] waiting in line to pay for an item when the bad guy came in wearing dark sunglasses and trying to coverup his face while brandishing a revolver. The [bad guy] yelled for everyone to get down and before anybody could react, immediately walked over to the store owner and in a cold-blooded fashion shot him twice. The owner then dropped down behind the counter. . . .

The [bad guy] ran towards the back of the store, aiming his gun at an innocent man laying prone on the floor. Luckily the [bad guy] was too distracted by the [gun owner] to shoot the man. There is no doubt in my mind that the man would have been shot in cold blood that day if it weren't for that [gun owner] returning fire. . . .

As he approached the front of one aisle, he again pointed a gun at a person on the ground and was about to execute him, when he was again distracted by the [gun owner]. . . .
College Park (near Atlanta), Georgia, May 7, 2009, WSB-TV 2
More information is available from WFXI in Atlanta:
The resident of the apartment, Charles Bailey, told police that he thought it was the end of his life. He and ten other people were in his apartment celebrating at a birthday party when two masked gunmen burst through the patio door. . . .

Bailey further informed authorities that the suspects counted their bullets. Apparently Hill was guarding the men when one of the victims retrieved a gun from a backpack and turned the tables on the situation. Hill reportedly fled the scene.The victim with the gun then proceeded to the next room where Lavant had watch over the females at the party.The guy was apparently was about to rape one of the females, said Bailey. . . .

Bailey said if not for the quick thinking of that party goer, it is likely that all the victims would have been killed. I am thankful that one student risked his life for others. . . .
Winnemucca, Nevada, May 25, 2008, KOLO ABC Channel 8 (Reno):
Colorado Springs, Colorado, December 2007, by Solomon Banda with the Associated Press:
Memphis, Tennessee, March 2007, WBIR TV NBC in Knoxville, TN:
Memphis, Tennessee, July 21, 2006.
Here is another knife attack that was stopped before the police were able to arrive. From Fox News:
A knife-wielding grocery store employee attacked eight co-workers Friday, seriously injuring five before a witness pulled a gun and stopped him, police said. . . .

The attack apparently stemmed from a work dispute, police said.

Five victims, one in critical condition, were admitted to the Regional Medical Center, the main trauma hospital for the Memphis area. Three others were less badly hurt and treated at another hospital.

The attacker, chasing one victim into the store's parking lot, was subdued by Chris Cope, manager of a financial services office in the same small shopping center, Higgins said.

Cope said he grabbed a 9mm semiautomatic pistol from his pickup truck when he saw the attacker chasing the victim "like something in a serial killer movie."

"When he turned around and saw my pistol, he threw the knife away, put his hands up and got on the ground," Cope told The Associated Press. "He saw my gun and that was pretty much it."

Police arrived within minutes . . . .
Tyler, Texas, February 2005, Fox News (see also here):
Grundy, Virginia, Jan. 16, 2002
Josh White in the Washington Post recounts the testimony of Mikael Gross, one of the two students who had:
Edinboro, Pennsylvania, April 1998, from Robert Moran and Susan Q. Stranahan in the Philadelphia Inquirer
Muskegon, Michigan, August 1995, The Chronicle:
Plans to slay everyone in the Muskegon, Michigan, store and steal enough cash and jewelry to feed their "gnawing hunger for crack cocaine" fell apart for a band of would-be killers after one of their victims fought back. Store owner Clare Cooper was returning behind the counter after showing three of the four conspirators some jewelry, when one of the group pulled out a gun and shot him four times in the back. Stumbling for the safety of his bullet-proof glass-encased counter, Cooper managed to grab his shotgun and fire as the suspects fled. . . .
Anniston, Alabama, December 1991, J. Neil Schulman in the Los Angeles Times:
. . . two men armed with recently stolen pistols herded 20 customers and employees of a Shoney's restaurant in Anniston, Ala., into the walk-in refrigerator and locked it. Continuing to hold the manager at gunpoint, the men began robbing the restaurant.

Then one of the robbers found a customer who had hidden under a table and pulled a gun on him. The customer, Thomas Glenn Terry, legally armed with a .45 semi-automatic pistol, then fired five shots into that robber's chest and abdomen, killing him instantly.

The other robber, who was holding the manager at gunpoint, opened fire on Terry and grazed him. Terry returned fire, hitting the second robber several times and wounding him critically.

The robbery attempt was over. The Shoney's customers and employees were freed. No one else was hurt. . . .
The preceding list is not meant to be anything near comprehensive. One can see how hard it is to identify these cases when there is often just one or two stories on a case.
Cases where attacks were stopped with other types of guns
Fort Smith, Arkansas, May 15, 2021
Zachary Arnold, 26, fatally shot Lois Hicks, 87, in her apartment and then began shooting at other people in neighboring apartments. This case involved someone with a rifle, not a concealed handgun, to stop the attack.
Hicks was shot multiple times inside of her apartment by Arnold who was armed with a semi-automatic rifle. Arnold continued to shoot his rifle at neighboring apartments. A resident at the apartments heard the gunshots and got a hunting rifle which he used to shoot and kill Arnold. . . . .

Nayely Palafox, "Fort Smith Police investigate shooting that left two people dead," Channel 5 News (Springdale, AR), May 15, 2021.
Possible cases
Cicero, Illinois, September 15, 2018
The Chicago Tribune points out that the police considered a concealed handgun permit holder a hero. They did not initially know if the permit holder was the one who had shot the criminal, but that at the very least his shots helped stop the attack and made it possible for the other officer to shoot the criminal. The police and others referred to the permit holder as a "hero."
Police said the concealed gun holder was stuck in traffic when he witnessed the police activity, decided to intervene, and got out his car and fired at the man. . . .

[David] Lombardo added, "speaking as a former part-time deputy and an ex-military guy, the (citizen) was an angel. He knew what he was doing, he got involved when he didn't have to and he saved the cop's life. The bad guy could have hit somebody else too. So who knows how many lives (the citizen) saved?"

Cicero police and town leaders credited the citizen, whose name they did not release, with helping to end the wild shootout during the Thursday evening rush hour.

"We were lucky enough to have a citizen on the street there who is a conceal carry holder, and he engaged in gunfire with the suspect," Cicero police Superintendent Jerry Chlada Jr. said . . . .
It later turned out that the permit holder wasn't the one who had wounded the criminal. From the Chicago Sun-Times:
The officers attempted to pull the vehicle over, but it drove off and got stuck in traffic near the expressway ramp, Assistant State's Attorney Guy Lisuzzo said. When the officers blocked the Mercedes in, Mageo, armed with a black handgun, allegedly opened fire.

Duarte was shot at least six times — in the leg, hip and shoulder, Lisuzzo said. A bullet also struck the officer's Taser. Duarte has since been released from the hospital, but was still walking with the aid of a walker, authorities said.

A witness with a permit to carry a concealed gun saw the shooting and fired three times at Mageo as he ran, Lisuzzo said. None of those bullets struck Mageo. . . .
Rock Hill, South Carolina, December 21, 2017 (The State newspaper (Columbia, South Carolina), WYFF Channel 4 TV)
The attacker wielding a large wrench threatened to kill several people. The attacker had cornered one of the employees, and he would have likely killed her. Fortunately, two concealed handgun permit holders stopped the attack. This case is only included as possible because it isn't clear that the attacker would have been able to kill more than the one female employee. From The State newspaper:
A pair of customers legally carrying guns held a pipe-wielding attacker at bay at a York County car dealership until police arrived in a December incident where the suspect threatened to kill dealership employees, prosecutors said in court Friday.

Alonzo Seegars, upset with service at Stateline car dealership on Gold Hill Road in Fort Mill on Dec. 21, arrived armed with a pipe wrench, said Aaron Hayes, 16th Circuit assistant solicitor. Seegars told a service employee, "I know who you are and you are a dead man," then "threatened to kill" a female employee, Hayes said.

Seegars then shouted out "Watch this!" as he smashed at least three vehicles with the pipe wrench, Hayes said.

Two customers, whom prosecutors said had legal concealed carry permits and were armed legally at the time, intervened and "held Mr. Seegars at bay" with the handguns at the crowded dealership until police arrived, Hayes said. York County deputies tackled Seegars after using an electric stun gun. Seegars suffered a broken leg in the scuffle. . . .
North Naples, Florida, July 11, 2018
It looks as if the permit holder stopped what otherwise would have been a drive-by shooting. WINK television news -had this headline "Good Samaritan with a gun stops possible shooter outside restaurant."
If it wasn't for Good Samaritan, named Tom, standing by, an evening out could have turned into someone's worse nightmare.

"You wonder, is this ever going to happen to me, and it did," Tom said.

According to witnesses, what Tom did may have prevented a tragedy.

"I pulled into Jack's, just walked in to grab a beer. Walked outside to sit down, and there was a table of ladies to the right of me," Tom said. "Almost immediately, this black Lincoln pulled up with all dark windows and he did a hell of a burnout." . . .

Tom says a man, who deputies later identified and arrested as Keith Zavattaro, 55, of Naples, drove back to the front of the building, stopped and then slowly rolled down his window to then point what looked like a gun.

"So I got behind the cement pillar and showed my pistol, and he took off out of there really quick," Tom said.

According to the arrest report, other people outside also saw the gun.
Houston, Texas, Sunday, May 29, 2016, The UK Daily Mail
Dionisio Garza III from San Bernardino County, California, has been named as the man behind the gun attack that left two people dead and six wounded.

He served four tours of duty in Afghanistan and was discharged from active duty in 2014, and doesn't appear to have a criminal history. . . .

He killed 56-year-old Eugene Linscomb and critically injured father Byron Wilson, who police say was trying to fight back and stop the deadly attack.

Authorities said Wilson had a concealed carry permit and fired at the suspect. He was shot three times in the process.

He is expected to survive. . . .
more on this case is here on KHOU-TV:
All the while, feeling grateful that her friend still has his life and his actions may have kept others from losing theirs.

"He could have prevented more people from being shot," Guerra said. "He's a hero, even though he was shot. He's a hurting hero." . . .
Las Vegas, Nevada, June 8, 2014
A Concealed Carry Permit Holder may have limited the carnage in North Las Vegas shooting that left three people dead. While the permit holder lost his life, it appears as if he was able to delay the killers' attack on others and give people a chance to escape.
Portland, Oregon, December 2012 KGW Staff:
Meli is emotionally drained. The 22-year-old was at Clackamas Town Center with a friend and her baby when a masked man opened fire.

"I heard three shots and turned and looked at Casey and said, 'are you serious?,'" he said.

The friend and baby hit the floor. Meli, who has a concealed carry permit, positioned himself behind a pillar.

He was working on his rifle, said Meli. He kept pulling the charging handle and hitting the side.

The break in gunfire allowed Meli to pull out his own gun, but he never took his eyes off the shooter.

"As I was going down to pull, I saw someone in the back of the Charlotte move, and I knew if I fired and missed, I could hit them," he said.. . .

I'm not beating myself up cause I didn't shoot him, said Meli. I know after he saw me, I think the last shot he fired was the one he used on himself. . . .
Eugene Volokh has a discussion available here about why he doesn't include this on his list of four cases that he has.
Manchester, New Hampshire, April 15, 2007
The links to the original New Hampshire Union Leader are broken, but I have links to a blog that quotes the articles.
Bullets flew outside the Uptown Tavern early yesterday when a peeved patron began shooting at a doorman after being thrown out of the club. The shooter himself was shot twice by an armed customer who rushed to the bouncer's defense, a club owner and police said.

The shooter had missed doorman Chad Ryan after firing about four shots at him in the 1301 Elm St. club's parking lot when the alleged gunman was himself hit twice by the unidentified patron who returned fire about 12:45 a.m., said club co-owner Dave Somers.
Tacoma Mall in Tacoma, Washington, November 20, 2005.
While this case ended with the permit holder not stopping the shooter, the exchange of gun-fire with the shooter delayed him and thus gave others a chance to escape and police more time to arrive.
Other Cases
Hoover, Alabama (Galleria Mall), November 23, 2018
Emantic Bradford Jr apparently tried to use his gun to stop what might have been a gang shooting at a mall. Unfortunately, Bradford was shot by a police officer. The Alabama Attorney General cleared the police officer in the shooting of any crime, saying that he acted reasonably because of the chaos. One factor that helped cause problems was that the mall banned concealed handgun permit holders. This is the only case that we know of where a permit holder was shot by police when he was trying to stop a shooting, though he apparently wasn't doing it in a place where he was legally able to do it. It also isn't clear if Bradford was himself involved in stopping the shooting of civilians.
Off-duty police have also had some dramatic cases
Lenexa, Kansas, November 26, 2017
As the chaotic scene unfolded and the gunman methodically walked through the aisles of the Lenexa Costco on Nov. 26, . . .

When the gunman, later identified as Ronald O. Hunt, announced, "I'm an off-duty U.S. Marshal, I'm here to kill people," Howell realized that he had only one option.

"I knew that there was a threat that had to be stopped," Howell said Friday as he recalled the incident. . . .

In announcing that the retired U.S. Army veteran would not face criminal charges, Johnson County District Attorney Steve Howe said Howell "acted with extreme courage, and saved an unknown amount of innocent lives." . . .

"You never know what situation you are going to find yourself in whether it is a restaurant or a shopping mall, or just driving down the road," he said. "I think it would be ludicrous not to be prepared." . . .
Plymouth County, Massachusetts, May 11, 2016
A stabbing rampage that left two victims dead and several others injured ended when an off-duty police officer fatally shot the suspect.

Plymouth County Sheriff's Deputy Jimmy Creed was off-duty "with his bride, just having dinner," when the chaos unfolded, police sources told ABC News.

They were dining at Bertucci's Italian restaurant in the Galleria Mall in Taunton, about 40 miles south of Boston.

Suspect Arthur DaRosa had walked into the restaurant and "armed himself with a knife and stabbed two people," District Attorney Thomas Quinn said in a statement released early this morning.

Quinn said today that DaRosa's sister told police he had checked himself into a local hospital Monday night and was released Tuesday morning, hours before the attacks. . . .
St. Cloud, Minnesota, September 17, 2016
A terrorist mass stabbing occurred at the Crossroads Center shopping mall in St. Cloud, Minnesota. Ten people were injured, and the attacker was shot dead inside the mall by an off-duty law enforcement officer. The FBI began investigating the stabbing as a possible act of terrorism.
The Washington Post Reports: "the attacker lunged at Jason Falconer, a part-time police officer in Avon, Minn., 15 miles northwest of St. Cloud. Falconer then fired shots at the stabber, who fell but got up three times before he died."
Fox 9 in AVON, Minn
Off-duty police officer Jason Falconer was the right person, in the right place, at the right time. The part-time cop with the Avon, Minnesota Police Department is the owner of a gun range in Waite Park called Tactical Advantage, and he's a competitive shooter, according to his police chief. In fact, he's the firearms instructor for the city of Avon.

"I believe there was divine intervention," Chief Corey Nellis said. "I believe he was the person that needed to be there to prevent it from being worse than it was." . . .
San Antonio, Texas, December 2012, WOAI (possibly shouldn't be included in the list of off-duty police officer as the person was moonlighting as a security guard):
"It started at the restaurant and then went into the parking lot and then into the movie theater," Deputy Lou Antu told 1200 WOAI news.

Investigators say some of the terrified restaurant patrons poured into the movie theater, and the gunman followed.

He opened fire, shooting one man in the chest, before Antu says an off duty sheriff's deputy who was working security at the theater shot him once.

"The officer involved, she took the appropriate action to try to keep everyone safe in the movie theater," Antu said.

The gunman and the patron are hospitalized.

Antu says the gunman never made it into the theater itself, thanks largely to the heroic work of the off duty deputy.

"She did what she felt she had to do," Antu said. "I feel that she saved a lot of lives by taking the action she had to take." . . .
Aurora, Colorado, April 24, 2012, Fox Channel 31, Denver
. . . Aurora Police say Kiarron Parker, 29, of Denver, shot and killed Josephine Echols, 67, just before 3 p.m. outside the Destiny Christian Center in the 10600 block of E. Bethany Dr. That's not too far from Parker Rd. and Havana St.

Parker had a lengthy criminal record.

An off-duty Denver police officer shot and killed Parker. . . .

That gave him enough time to hide behind a car.

Then, the bullets started raining, and hit Mama Jo.

That's when an off-duty Denver policeman—also Mama Jo's nephew—shot the suspect dead.

"Thank God for him because if it wasn't for him there's no telling what would have happened," says Martin. . . .
New York Mills, New York, May 2010, WKTV:
. . . Shortly before 1 p.m. on that Thursday afternoon, Dicken walked into the cellular phone store on Commercial Drive, with a 357 magnum in his hand, and a list in his pocket containing the six names of the AT&T store employees to which he was holding such deep anger, and planned to kill as a result.

"The suspect had no prior history," said Lt. Troy Little of the New York State Police.

That man with no prior criminal record walked into the store and shot Seth Tyrk, a store employee who was doing no more than working at a computer at his job. Authorities believe Dicken could have been even more successful with his list of six victims, if not for the instantaneous actions of Rome Police Officer Donald J. Moore, who was off-duty, but in the store as a customer at the time of the shooting.

"He heard and sees the gun, draws his weapon, and fired," Lt. Little said of Officer Moore's reaction.

Officer Moore was carrying his own 40 caliber handgun.

"It's his own personal choice," said Moore's boss, Rome Police Chief Kevin Beach. "We do encourage our officers to carry off-duty." . . .
Salt Lake City, Utah, February 2007, CBS News (note this off-duty officer carried his gun where he was not allowed to do so (more details here)):
An off-duty police officer having an early Valentine's Day dinner with his wife was credited Tuesday with helping stop a rampage in a crowded shopping mall by an 18-year-old gunman who killed five people before he was cut down.
A day after the shooting, investigators struggled to figure out why a trench-coated Sulejmen Talovic opened fire on shoppers with a supremely calm look on his face.
The teenager wanted to "to kill a large number of people" and probably would have killed many more if not for the off-duty officer, Police Chief Chris Burbank said.
Ken Hammond, an off-duty officer from Ogden, north of Salt Lake City, jumped up from his seat at a restaurant after hearing gunfire and cornered the gunman, exchanging fire with him until other officers arrived, Burbank said.
"There is no question that his quick actions saved the lives of numerous other people," the police chief said. . . .
Santee, California. In 2001, a student (Charles "Andy" Williams) shot and killed two of his classmates and wounded 13 others before being subdued and held at gunpoint by an off-duty police officer who was bringing his daughter to school.