Washington, PA, September 1, 2021 (KDKA-TV)
Thirty-six-year-old Leonard Williams Jr. was shot and killed along West Walnut Street on Sept. 1.

According to District Attorney Jason Walsh, the landlord told police that after he posted Williams' property in arrears, Williams threw the notice on the ground, followed him, fought with him, threatened him and tried to get into his truck.

With the landlord inside the vehicle, Walsh says witnesses told police a struggle ensued over the driver's side door. Saying he feared for his life, the landlord shot Williams.

Walsh says evidence shows that Williams was the aggressor and the landlord fired in self-defense. Based on that evidence, Walsh says there will be no charges because it's a justified homicide under Pennsylvania law…

KDKA-TV News Staff, "DA: Washington County Landlord Was Justified In Shooting, Killing Tenant," KDKA-TV, September 14, 2021.
North Las Vegas, NV, September 4, 2021 (8NewsNow)
North Las Vegas Police are investigating the shooting that happened on East Azure Avenue off Lamb Boulevard around 7 a.m. Saturday morning in the northeast valley. This is the area just south of Centennial Parkway, near North Las Vegas VA hospital.

According to police, a vehicle owner tried to stop two male suspects from trying to steal a catalytic converter. A catalytic converter is an exhaust emission control device on an automobile.

One suspect, 29-year-old Antonio Alvarez then fired at the victim. The victim then returned fire and struck the other suspect, 38-year-old Armando Ante-Cedeno, according to police. The suspect sustained minor injuries was treated for his injuries at a hospital before being booked into the North Las Vegas Community Correctional Center…

8NewsNow Staff, "Both suspects in custody following attempted robbery of vehicle's catalytic converter in northeast valley," 8NewsNow, September 4, 2021.
Houston, TX, September 4, 2021 (ABC 13)
On the northwest side of the city, Harris County Sheriff's Office deputies responded to a shooting at West Little York and the Beltway around 5:45 p.m. Saturday.

The incident began with a man driving erratically and started chasing another driver. The man pulled up next to the vehicle and pulled out a gun, according to deputies.

That other driver, however, had a gun of his own and discharged his firearm, striking the man and the woman inside the vehicle.

The man and woman drove off and threw the gun out of the vehicle while driving to another location. Deputies were not sure if they ever fired their gun.

The shooter then drove to Brittmore where he felt it was safe to call 911. Deputies said the shooter cooperated with the investigation, and no charges were expected to be filed…

ABC 13 Staff, "Road rage blamed for multiple shootings across Houston overnight," ABC 13, September 6, 2021.
Baytown, TX, September 4, 2021 (The Baytown Sun)
Jose Figueroa of Baytown was shot and killed Saturday in the 800 block of Northbend Drive after he approached a vehicle with his 24-year-old girlfriend inside along with the driver, identified as 25-year-old Aaron Walker. Figueroa had a loaded, modified black paintball gun that he pointed at Walker, police said…

After Figueroa displayed the paintball gun, police say Walker retrieved his own handgun, a .45 caliber pistol, from his SUV and shot Figueroa, who died at the scene.

Freed said Walker was detained, questioned and released without charges…

Matt Hollis, "BPD: Man claiming self-defense in shooting of paintball gunman," The Baytown Sun, September 9, 2021.
Haines City, FL, September 5, 2021 (10 Tampa Bay)
Police say this all began at around 9:30 p.m. on Sunday, when a 41-year-old man told police he was attacked by another man – who was later identified as Gerald Lewis – near Valencia Avenue. He told detectives he did not know the man and that Lewis attacked the 41-year-old unprovoked and hit him in the eye.

The punch caused the man to fall to the ground. And that's when police say Lewis, who initiated the fight, according to a witness related to the 41-year-old, jumped on top of him.

The 41-year-old man, who police say is much leaner than the other man, was in legal possession of a concealed firearm. He told police during the fight he was in fear for his life and reached for his gun. A struggle ensued between the two and a single shot was fired, striking Lewis just below the ribcage.

The shooter told detectives that the gunshot was enough to get Lewis off of him and the two stood up and ran in opposite directions…

10 Tampa Bay Staff, "Police looking for hit-and-run driver who struck a man involved in a deadly shooting," 10 Tampa Bay, September 7, 2021.
Albuquerque, NM, September 6, 2021 (KOB Web)
The Albuquerque Police Department is investigating a homicide near Fifth and Bellrose Ave. after receiving multiple calls about a man laying on the sidewalk around 5:45 p.m.

Officers said that when they arrived, they discovered an individual who appeared to have been shot and succumbed to his injuries.

At the same time, police said they received a call from a Tobacco Town employee who said a male subject entered the store and tried to rob him. They said the employee shot the subject as he ran out of the store.

KOB Web Staff, "APD: Man shot, killed in NW Albuquerque," KOB Web, September 6, 2021.
Cincinnati, OH, September 7, 2021 (Fox 19)
Police responded to the 3700 block of Vine Street in front of Vine Street Cemetery about 7:15 p.m. Tuesday for the reported shooting.

A man arrived alone to meet two men to get something he bought off Craigslist, according to Lt. Patrick Caton.

The two men tried to rob the man who came alone at gunpoint, but he drew his weapon to defend himself, Lt. Caton said.

Gunfire was exchanged.

The man who drew his weapon to defend himself stayed at the scene while the other two left…

Courtney King, "Police: Craigslist meetup ends with 3 shot on Vine Street, Fox 19, September 7, 2021.
Tulsa, OK, September 7, 2021 (KTUL)
Tulsa County deputies say a man is in the hospital after an altercation near West 56th Street North and North Osage Drive on Tuesday…

Witnesses told police that a man came to the victim's house and the two got into an altercation. At one point, the suspect got into his SUV and chased the victim in circles outside the house.

The victim fired multiple shots at the suspect at the suspect's vehicle. Deputies are unsure if the suspect was hit by gunfire before he drove away…

Megan Butler, "Man hospitalized after altercation outside north Tulsa home," KTUL, September 7, 2021.
Houston, TX, September 8, 2021 (Fox News, KHOU)
An armed robber was shot in the face in Texas when his victim pulled out his own gun and shot at him, just days after a Texas law went into effect allowing residents to carry handguns without permits…

This happened shortly before 11 p.m. Wednesday in the 8600 block of Airport Boulevard.

According to the Houston Police Department, a man was pulling in the driveway of a nearby gas station when an armed suspect approached him and demanded his belongings…

The victim, however, was also armed and pulled out his weapon and shot the suspect in the face. The suspect is in the hospital and in police custody.

Additionally, no charges are expected to be brought against the victim, as he was defending himself…

Emma Colton, "Armed robber shot in face by armed victim in Texas just days after permitless carry begins," Fox News, September 9, 2021.
Chloe Alexander, "HPD: Would-be victim shoots armed robber in the face outside Houston gas station," KHOU, September 9, 2021.
Minneapolis, MN, September 9, 2021 (Sun Post)
Tyreese Giles, 21, was charged with second-degree murder in connection with the Sept. 9 shooting at 2125 Glenwood Ave…

According to the Hennepin County Attorney's Office, at approximately 8 p.m., Minneapolis police responded to a report of a shooting at Penwood Market in north Minneapolis…

On surveillance video footage, Berry can be seen outside the market talking to two other males near a vehicle.

Berry then clutches his chest from an apparent gunshot wound. Giles can be seen firing a handgun at Berry, who attempted to run into the Pennwood Market, then ran back to the vehicle before collapsing.

As Giles attempts to run away from the scene, a man identified as "witness 1" returns gunfire at Giles before loading Berry into a vehicle and driving to the hospital…

Kevin Miller, "Man charged with murder after fatal shooting at Pennwood Market," Sun Post, September 22, 2021.
Atlanta, GA, September 10, 2021 (11Alive)
A 17-year-old has been charged with murder after his alleged accomplice was shot dead by the owner of a car they were accused of trying to break into at a shopping plaza in Buckhead on Friday…

The teenager was shot, police said, when a man was walking out of the Publix in the plaza when he noticed two individuals breaking into his car.

At that moment, he decided to confront them and when the situation escalated, "the victim chose to take his weapon and defend himself against the people that were breaking into the vehicle," according to APD Deputy Chief Timothy Peek…

11Alive Staff, "17-year-old charged with murder after man shoots accomplice dead during alleged robbery attempt at Peachtree Battle Shopping Plaza," 11Alive, September 11, 2021.
Memphis, TN, September 13, 2021 (Fox 13 Memphis)
Police located a man in the 3600 block of Hanna who said two men attempted to rob him while he was walking home from Family Dollar.

According to the affidavit, he said the men drew guns, and one began shooting at him.

He said he returned fire with a Glock 31. Police found the gun after a search warrant was issued…

FOX13Memphis.com News Staff, "Man charged after victim shot and killed during attempted robbery," Fox 13 Memphis, September 20, 2021.
Albuquerque, NM, September 14, 2021 (KRQE)
The Albuquerque Police Department says a Subway store employee shot and killed a suspected robber inside the southeast Albuquerque restaurant early Tuesday morning.

Tuesday morning, Subway employees told officers an armed person walked into the restaurant around 5:20 a.m. and tried robbing an employee. The Albuquerque Police Department says that's when another worker who had a gun came out of a back room and shot the suspected robber…

The New Mexico Business Coalition says it's worried about employee safety at Albuquerque businesses and isn't surprised some are carrying guns. "Unfortunately, employers and employees are living in fear for their lives now in New Mexico and they're taking extraordinary measures to protect themselves," New Mexico Business Coalition President Carla Sonntag said…

Jackie Kent, KRQE Staff, "Police: Suspected robber shot, killed by Subway employee near Albuquerque airport," KRQE, September 14, 2021.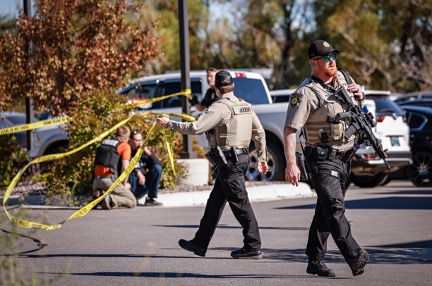 Kalispell, MT, September 16, 2021 (Flathead Beacon)
According to charging documents in the case, the events unfolded on Sept. 16 when Kalispell police officers responded to a report of gunshots fired in the Fuel Fitness parking lot, located at 1305 U.S. Highway 2. Upon arriving at the 24-hour fitness center, authorities discovered a man they later identified as Matthew Hurley, the gym's manager, who was lying dead in the parking lot with blood on his body and "what appeared to be bullet wounds" to the man's torso and face.

Investigators spoke with Fuel Fitness assistant manager Matthew Underhill, who explained that he and Hurley had gone outside to the parking lot to speak with Shaw, who they'd discovered had been sleeping there without permission. Hurley explained he was revoking Shaw's gym membership in exchange for a partial refund, to which Shaw replied, "Well, you are going to die," and started shooting at Hurley, according to documents. Another man, who police later identified as Shaw, was lying facedown on the ground; however, when he raised himself to his knees officers observed a handgun on the ground in front of him, records state.

Police also spoke to a Fuel Fitness customer named William Keck, who told investigators he'd walked outside the facility and heard "what sounded like firecrackers popping," then encountered Underhill sprinting toward him. Underhill explained to Keck that Hurley had been shot, at which point Keck retrieved a pistol from his vehicle. He then noticed Shaw climbing into a truck and ordered the man to get out. Keck told officers that Shaw opened the truck's door and "two rounds came right at me." Keck returned fire, striking Shaw, and only then realizing he'd also been struck in the leg with a bullet, requiring medical treatment…

Maggie Dresser, "Man Charged With Deliberate Homicide in Kalispell Shooting," Flathead Beacon, September 29, 2021.
Tulsa, OK, September 17, 2021 (News On 6)
According to police, the shooting took place around 3:20 a.m. Friday at the Tower Crossing Apartments near East 41st Street and South Garnett Road.

Tulsa Police Capt. Jeff Edwards said the call first came in as an auto theft in progress.

According to police a man looked out of his window and saw his trailer was being stolen. He attempted to defend his property and ended up shooting the suspect…

News On 6 Staff, "Police Investigate Deadly Shooting At Tulsa Apartment Complex," News On 6, September 17, 2021.
Shreveport, LA, September 21, 2021 (ArkLaTexhomepage.com)
The shooting happened around shortly after midnight at NLB Grocery in the 700 block of W. 70th St.

According to the Shreveport Police Department, 30-year-old Cedric Grant walked into the store and made threats to the employees behind the counter. Then Grant allegedly pulled out a gun and started firing shots.

An innocent bystander was shot in the lower back and taken by a private vehicle to Ochsner LSU Health. He underwent surgery and is expected to recover from his injuries.

Detectives said an employee also pulled out a gun and fired multiple shots at Grant, who was taken to Ochsner LSU Health with several gunshot wounds in undisclosed condition.

Although still in the hospital, at 7:16 a.m. Tuesday, Shreveport police arrested Grant on two counts of attempted first-degree murder and three counts of aggravated assault with a firearm.

Nikki Henderson, "SPD: 2 wounded, 1 arrested in early morning shooting at Shreveport convenience store," ArkLaTexhomepage.com, September 21, 2021.
Bellingham, WA, September 21, 2021 (The Bellingham Herald)
At 2:57 a.m. Sept. 21, officers were sent to the 7-Eleven store on Northwest Avenue for the report of an armed robbery, Whatcom County Superior Court documents show.

Police spoke to the store clerk, who reported Cooper, wearing a red coat and facemask, walked behind the counter, pointed a black handgun at his head and demanded money from the register, documents state.

The clerk told police that he grabbed the handgun and wrestled it away from Cooper, sending it sliding across the floor, according to documents. An unidentified male companion of Cooper's joined her, and they confronted the clerk, and Cooper punched the clerk in the face, documents state.

The clerk told police that he drew his own handgun from his waistband and told Cooper and the man to leave, documents state, but as Cooper was leaving she turned and walked toward her gun on the ground. It was then that the clerk fired a single round, striking Cooper in the right upper hip/buttocks, according to documents…

David Rasbach, "Bellingham woman shot in buttocks while allegedly attempting to rob convenience store," The Bellingham Herald, October 6, 2021.
Woodbridge, VA, September 23, 2021 (InsideNoVa)
The video by Edgar Cuero and shared with InsideNoVa shows a man in the far right corner shooting at a passing car on Flotilla Way near Dyers Mill Court in Woodbridge just after 4 p.m.

Police say a 26-year-old man and several passengers were driving through the area when an unknown man fired shots at their car, said Prince William County police Master Officer Renee Carr.

The driver returned fire before fleeing and encountering police on an unrelated call in the area of Fox Lair Drive.

As a result of the shooting, two passengers were injured — a 15-year-old boy suffered a graze wound a 25-year-old woman was struck by debris, Carr said. No additional injuries were reported.

While canvassing, officers located multiple shell casings and additional vehicles with damage consistent with being struck by bullets…

InsideNoVa Staff, "VIDEO: Two suffer minor injuries in Woodbridge shooting," InsideNoVa, September 26, 2021.
Hoffman Estates, IL, September 24, 2021 (WGN TV)
Earlier in the morning, Hoffman Estate police said a carjacking took place just before 5:45 a.m. in the 0-block of West Golf Road. Police said a man, who had a valid concealed carry card, fired shots at the vehicle as they fled the scene…

The vehicle was found a short distance from the scene. Later Friday, police confirmed that the two teens who were shot are persons of interest in the carjacking case…

WGN Web Desk, Julian Crews, "Hoffman Estates man shoots at 2 teen carjackers early Friday morning," WGN TV, September 24, 2021.
Houston, TX, September 25, 2021 (ABC 13, City of Houston News)
Authorities said a father and his son were inside their home in The Heights after picking up the pieces. A family member of the father and son said the parts were worth $3,000 total.

Some time after they arrived to the home in the 1300 block of Wichman Street, officers say two men allegedly jumped inside the father's truck and drove to the dead end of their street…

A truck was found disabled in a ditch with the driver's side door open. A resident told officers he shot the male after a family member's truck was stolen and the suspect attempted to flee in it, but drove the truck into the ditch. The resident stated he fired shots at the suspect when he (suspect) exited the truck with a firearm…

ABC 13 Staff, "Man killed after attempting to steal a pickup truck full of auto parts in The Heights, HPD says," ABC 13, September 25, 2021.
City of Houston News Staff, "Investigation into Fatal Shooting at 1505 Wichman Street," City of Houston News, September 27, 2021.
Chicago, IL, September 27, 2021 (Fox 32 Chicago)
McKissic was with his girlfriend and playing cards with Meshach Richardson and his brother early Monday when McKissic expressed frustration at the spit coming from Richardson's mouth, prosecutors said.

When Richardson stepped outside for a cigarette, McKissic followed, grabbed a gun from his waistband and fired at Richardson while his back was turned away, prosecutors said.

McKissic then stood over Richardson's limp body and allegedly continued to fire outside the lounge in the 700 block of West 77th Street, prosecutors said.

When the gunfire stopped, a security guard and another person from the building opened the front door and saw McKissic standing outside pointing the gun in their direction, prosecutors said.

A concealed carry license holder standing next to the guard in the doorway pulled out his own weapon and fired once, striking McKissic in the arm, prosecutors said.

McKissic took off running but the concealed carry holder followed him and pointed him out to police, who arrested McKissic about a block away, prosecutors said…

Sun-Times Media Wire Staff, "Man killed for spitting while talking during card game: prosecutors," Fox 32 Chicago, September 29, 2021.
Baton Rouge, LA, September 28, 2021 (WBRZ)
The confrontation happened Sept. 28 after the woman—who was selling the game console over Facebook—set up a meeting with 20-year-old Dane Johnson.

The victim told police that Johnson agreed to meet at her apartment on Mead Road when he got off work later that evening. When he showed up at the apartment complex, he approached the victim and allegedly held a gun to her head.

The woman dropped the Xbox and fled to her vehicle. Johnson then allegedly picked up the console and began firing shots at her. The woman grabbed her gun and fired back at him before fleeing in her vehicle and calling police…

WBRZ Staff, "Woman shot armed robber during Facebook Marketplace meet-up," WBRZ, October 7, 2021.
(Visited 304 times, 1 visits today)