Beaumont, Texas, May 1, 2023 (12NewsNow)
On Monday, May 1, 2023, Beaumont Police officers were sent to the Regent Apartments in reference to a victim of a shooting…

Beaumont Police received multiple calls about the incident…

The caller said four people wearing masks were in a vehicle, and they heard shots fired in the area…

The victim says a man wearing a shirt around his face tried robbing him at gunpoint saying "give me what you got."

The suspect used an AR15 style rifle to shoot the victim, according to the affidavit.

Police say the victim used a personal firearm and fired back in self-defense…

KBMT Staff, "Three injured after Monday night 'altercation' in Beaumont ends in shooting, victim not filing charges," 12NewsNow, May 2, 2023.
Scott Eslinger, "Beaumont Police arrest wanted man after brief car, foot chase Wednesday night," 12NewsNow, June 22, 2023.
Lafayette, Indiana, May 3, 2023 (WRTV)
According to the Tippecanoe County Sheriff's Office, deputies reporter to a medical emergency and possible domestic disturbance near the 167 mile marker Wednesday morning.

When they arrived at the scene, they found a man had been shot by his girlfriend.

Investigation found the couple, who drive semi-trucks in shifts, got into an argument and the boyfriend struck the female while she drove.

After being hit, the woman stopped the truck and was thrown into the sleeper area by the boyfriend, according to police.

The boyfriend then reportedly began driving again before stopping and going back into the sleeper area with his girlfriend. The girlfriend then shot the boyfriend, according to police…

No arrests were made in the incident.

James Howell Jr., "Girlfriend shoots boyfriend during disturbance on Interstate 65 in Tippecanoe Co," WRTV, May 3, 2023.
Chicago, Illinois, May 4, 2023 (ABC7 Chicago)
The shooting happened in the South Shore neighborhood's 7700 block of South Colfax Avenue at about 12:33 p.m., police said.

Police said 37-year-old man was outside his work truck when someone he knew opened fire. The victim was struck in the stomach. He then returned fire, striking the shooter in the thigh…

Eric Horng and ABC7 Chicago Digital Team, "Chicago shooting: 2 injured, 1 seriously in South Shore shootout, police say," ABC7 Chicago, May 4, 2023.
Houston, Texas, May 5, 2023 (Houston Police)
The fatal shooting of a male at 9200 St Lo Road about 3 p.m. last Friday (May 5) will be referred to a Harris County grand jury…

Officers learned he and another unknown male attempted to rob two construction workers at gunpoint. One of the workers displayed a weapon in defense and an exchange of gunfire ensued. The deceased male was struck and the unknown suspect fled the scene on foot. The construction workers were not injured…

Staff, "Investigation Into Fatal Shooting At 9200 St Lo Road," Houston Police Department, May 8, 2023.
Saint Louis, Missouri, May 6, 2023 (KMOV 4)
Police responded to the 1500 block of Destrehan in north St. Louis for a shooting just before 8:30 p.m. on May 6. When they arrived, they found the suspect on the ground had been shot.

According to police, two people were unloading their car when the suspect attempted to rob them with a firearm. One of the victims, a 31-year-old man, displayed his own gun. Both the suspect and the man fired at each other…

Kalie Strain, "Charges filed after fatal shooting in Hyde Park," KMOV 4, June 16, 2023.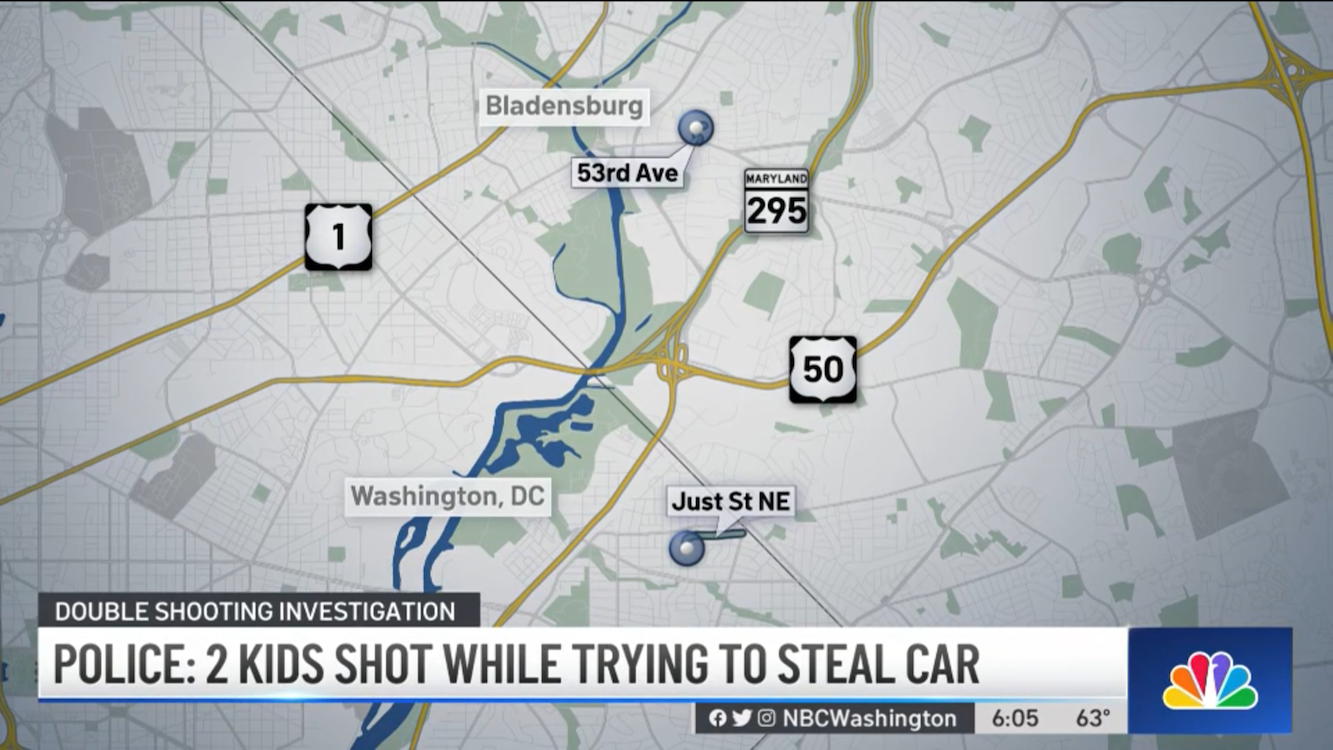 Bladensburg, Maryland, May 7, 2023 (NBC Washington)
A 12-year-old boy and a 15-year-old boy are recovering from being shot in Bladensburg, Maryland, on Sunday, authorities say. Witnesses told police someone shot the boys as they tried to steal a car…

Bladensburg police responded to 53rd Avenue after a report of gunfire. According to the preliminary investigation, several shots were fired and two drivers were seen speeding away. One of the vehicles hit two other vehicles, and an occupant was taken to a hospital with injuries…

The boys, both D.C. residents, had been trying to steal a vehicle when they were shot, witnesses told police…

Andrea Swalec, "Boys, 12 and 15, Shot in Bladensburg While Trying to Steal Car: Police," NBC Washington, May 9, 2023.
Bryans Road, Maryland, May 8, 2023 (NBC Washington)
Charles County detectives say a neighbor shot 30-year-old Carl Braxton Monday on Sedgemore Place in the town of Bryans Road.

Braxton, an eight-year veteran of DC Fire and EMS, had assaulted his girlfriend inside their home in Bryans Road, the Charles County Sheriff's Office said in a statement.

She ran outside and found a man walking his dog in the neighborhood.

Braxton approached the man and threatened to hurt him, according to the sheriff's office.

That man shot Braxton as he continued to walk "aggressively" toward him, the sheriff's office said.

The man who shot Braxton was taken to a police station and later released. He didn't previously know Braxton, the sheriff's office said.

Detectives said he has a permit to carry a firearm. Authorities have not released his name…

Aimee Cho and Sophia Barnes, "DC Firefighter Fatally Shot After Assaulting Girlfriend in Maryland: Sheriff," NBC Washington, May 9, 2023.
Philadelphia, Pennsylvania, May 8, 2023 (NBC Philadelphia, The Philadelphia Inquirer)
Prosecutors will not charge a 22-year-old man accused of fatally shooting a 46-year-old in East Germantown on Monday afternoon while both were canvassing for a political group. Authorities say the shooting was in self-defense…

Police told NBC10 a man, later identified as 46-year-old Eddie Brokenbough, was canvassing the neighborhood for a political campaign when he met with another campaign worker along the 2000 block of Church Lane around 4:11 p.m. The two men, who were both armed, then got into an argument which led to the other campaign worker pulling out a gun and shooting Brokenbough, police said…

Police said the campaign worker who shot Brokenbough had a valid permit to carry…

Brokenbough was not legally permitted to carry a firearm because of charges in a 2012 shooting, court records show. He was a paid temporary canvasser for OnePA on and off since 2021, the group said. The 22-year-old shooter has been employed by the group since last year…

David Chang, "Argument Between Philly Political Canvassers Leads to Deadly Shooting, Police Say," NBC Philadelphia, May 9, 2023.
Jesse Bunch, "No charges will be filed in Germantown canvasser shooting, District Attorney's Office says," The Philadelphia Inquirer, May 12, 2023.
Lexington, North Carolina, May 9, 2023 (FOX8 WGHP)
Police say suspects fired shots inside a Lexington pharmacy during an attempted robbery on Tuesday afternoon, and two people have been arrested…

Steve Koontz is the pharmacy manager at the Lexington Family Pharmacy. He said two masked men came to rob the pharmacy and shot at him. Koontz legally carries at the pharmacy and fired back…

Five other employees were able to go home safely tonight. They all credited Koontz…

Dolan Reynolds and Cassie Fambro, "Lexington pharmacist grazed by bullet during attempted robbery, fired back at suspects; 2 arrested, police say," FOX8 WGHP, May 9, 2023.
Las Vegas, Nevada, May 10, 2023 (8 News Now)
A person was shot and killed near the Harry Reid International Airport on Wednesday afternoon after placing graffiti, running from officers, and possibly attempting a carjacking, according to the Las Vegas Metro police…

Officers were patrolling in the area around Paradise and Russell roads, when they observed a white four-door Mercedes with spray paint on it at around 1:20 p.m., Lt. Jason Johansson said…

Officers observed that he had a gun in his hand. The suspect went over the barrier onto traffic on Paradise Road. He left the officers' sight shortly before they heard two gunshots.

When he entered traffic on Paradise Road, he immediately began pointing a gun at passing cars, stopping a silver vehicle. He pointed his gun at the person who was driving the vehicle, a man in his 50s. That driver was armed and shot the suspect.

The driver appears to be the victim of a possible carjacking, and at this time is not facing any charges, Johansson said…

Stephanie Overton, "UPDATE: Man shot, killed near Harry Reid International Airport after attempted carjacking," 8 News Now, May 10, 2023.
Dallas, Texas, May 10, 2023 (WFAA)
A man is dead after an attempted carjacking ended with a shooting Wednesday at an Oak Cliff gas station.

The incident happened outside the Quick Trip on S. R. L. Thornton Freeway at Glen Oaks Crossing in Oak Cliff. Police say three suspects attempted to rob a man at gunpoint, who then shot two of them in self-defense…

Demond Fernandez, "Attempted carjacking in Dallas ends in shooting, one suspect killed, police say," WFAA, May 10, 2023.
Amarillo, Texas, May 12, 2023 (Myhighplains.com)
According to APD, at around 12 a.m., officers were called to the 1600 block of South Georgia St on a shooting. Police said someone at the scene told officers that they were driving west on I-40 when a vehicle pulled up beside them and began honking before pointing a gun out of the vehicle at them.

Police said the victim told them they tried to slow down in an effort to get away. The suspect vehicle continued to point a gun at the victim. The victim said they pulled their own gun and fired at the suspect vehicle hitting the front passenger and the driver…

Angel Oliva, "Amarillo Police investigating Friday shooting in central Amarillo, 2 injured," Myhighplains.com, May 12, 2023.
New Orleans, Louisiana, May 13, 2023 (NOLA.com)
A 35-year-old man opened fire on an armed burglary suspect who approached his vehicle while it was parked on an Uptown street Saturday morning, according to the New Orleans Police Department…

The confrontation occurred about 6:30 a.m. in the 5500 block of Lasalle Street, one block off Jefferson Avenue.

The man was sitting inside his vehicle when he noticed the two suspects, both with faces covered, pulling on the door handles of nearby vehicles, the NOPD said. The pair was being followed by a black sport utility vehicle.

One of the suspects who was armed with a gun walked over to the man's vehicle with the "firearm towards the victim's vehicle," according to authorities. The suspect pulled on the man's door handle.

The man was afraid for his life and shot at the suspect, police said. He then scrambled out of his vehicle and tried to escape into a nearby residence…

Michelle Hunter, "Man wounded after shooting armed burglary suspect in Uptown neighborhood: NOPD," NOLA.com, May 15, 2023.
Louisville, Kentucky, May 14, 2023 (WDRB)
A shooting at the Shively Animal Clinic on Mother's Day continues to stir controversy after a Jefferson County grand jury decided not to indict the shooter on any charges…

Video from the clinic's lobby shows the woman's spouse holding her back as she argues with staff members on what police said was a busy night…

As the argument heats up, Taylor tosses his medical gloves in a trash can and hits the woman in the head. He then puts his fists up as he heads outside, and hits her again.

That's when the woman pulls out a gun from her bag and shows it to Taylor, who then shoves her with a traffic cone at the entrance to the clinic.

The next moments can only be seen through the door, and show Taylor fighting with the woman's spouse. Staff members can be seen rushing outside trying to break up the fight when the woman fires her gun…

Louisville attorney Thomas Clay told WDRB News on Thursday that he believes Kentucky's self defense statutes were interpreted correctly in the case, and said the jury did its job…

In a statement Wednesday, Commonwealth's Attorney Gerina Whethers said "The evidence in the case demonstrated that Trent (TJ) Taylor was shot and killed after he was the initial aggressor" against the shooter and her spouse, saying she "used deadly force in self defense."…

Staff, "Local legal expert says grand jury did its job in Shively Animal Clinic shooting," WDRB, June 22, 2023.
Houston, Texas, May 15, 2023 (ABC 13)
Houston police say 57-year-old Dexter Bruce Davidson faces several charges, including aggravated assault of a family member, aggravated assault with a deadly weapon, and felon in possession of a weapon.

On Monday, just before 6 a.m., Davidson allegedly followed his ex-girlfriend to her workplace, the day care on Ricky Street and Martin Luther King Boulevard.

That's when police say Davidson shot her and fired several shots at a man who was there with her.

In an update on Tuesday, HPD said the man and ex-girlfriend returned fire, hitting Davidson…

Staff, "3rd person involved in shootout between day care employee and ex-boyfriend in SE Houston, police say," ABC 13, May 16, 2023.
Birmingham, Alabama, May 17, 2023 (AL.com)
A 20-year-old has been identified as the man killed when police say he was carjacking another man in Birmingham earlier this week…

East Precinct officers were called to the 700 block of Springville Road just before 8 p.m. Wednesday on a report of a person shot at the Springville Landing apartments, said Officer Truman Fitzgerald…

The carjacking victim, police said, was on his way home when he was approached by multiple suspects. He was shot, and then returned fire, striking Bennet…

No arrests have been made.

Carol Robinson, "Suspect killed during Birmingham carjacking identified as 20-year-old," AL.com, May 19, 2023.
Charlotte, North Carolina, May 18, 2023 (WCNC)
Safety and dangerous workplace conditions continue to be a concern for Charlotte Area Transit Service (CATS) employees…

Calls for safety heightened following a shootout between a passenger and a bus driver on May 18. CMPD said a passenger, identified as Omarri Tobias, asked driver David Fullard to get off the bus in between stops. The bus driver refused, and then a verbal altercation turned into a full shootout on the bus.

Surveillance video shows Tobias pulling out a gun, followed by Fullard also taking out a weapon. Both men fired at each other. Tobias was arrested and faces several charges related to the shooting.

Attorney Ken Harris also spoke out Saturday. He has represented several CATS employees, including Mr. Fullard. He said safety has been an issue for years and not enough has been done to protect the bus drivers…

Fullard lost his job with CATS following the shooting. Per CATS policy, bus operators are not allowed to carry weapons while working…

Jesse Pierre, "'We drive and we want to survive' | CATS bus drivers continue to call for safer work conditions," WCNC, June 10, 2023.
Houston, Texas, May 20, 2023 (ABC 13)
The family of a man, whose loved ones claim he was mentally ill, believes his shooting death in a Midtown parking garage was preventable…

The 32-year-old was shot and killed on Saturday in a Midtown parking garage.

Houston police Det. Sarin Chettry said surveillance footage shows Muhammad attempting to open a driver-side door of a car where a man was sitting in the passenger seat. That man, in turn, shot Muhammad.

Police immediately released the shooter, who claimed self-defense. A grand jury will soon determine whether he is indicted on any charges…

Shannon Ryan, "Driver claims self-defense in shooting of man in Midtown, but family believes this was 'preventable'," ABC 13, May 23, 2023.
Austin, Texas, May 22, 2023 (KXAN)
Austin Police said Tuesday morning one person was dead and one person was detained after a shooting at Southpark Meadows in far south Austin late Monday night.

According to police, officers were called to the area near the Dairy Queen at the shopping center just after 9 p.m. for a report of a person shot…

APD said investigators determined Jaimes attacked a man known to him, and the man shot Jaimes in self-defense.

"The case has been turned over to the Travis County District Attorney's office, and no charges will be filed at this time," APD said…

Daniel Gravois and Julianna Russ, "APD investigating homicide at Southpark Meadows, determines it was self-defense," KXAN, May 23, 2023.
Saint Louis, Missouri, May 23, 2023 (KMOV 4)
A man was shot during a carjacking attempt that happened at a BP gas station in Soulard Tuesday night.

A 35-year-old man told officers he had parked his car near the entrance to the gas station at 7th and Russell and was helping his girlfriend pump gas when a suspect got into the driver's seat of his car. Police say as the victim started to walk back to his car, a second suspect retrieved a gun and started shooting. The suspect who went inside the victim's car then got out and also started shooting.

The victim then returned fire, police said. The victim was shot in the ankle and taken to a hospital in stable condition…

Shoshana Stahl and Dan Greenwald, "WANTED: Photos show suspects sought after shooting at Soulard gas station," KMOV 4, May 24, 2023.
Philadelphia, Pennsylvania, May 24, 2023 (NBC 10 Philadelphia)
A woman shot a man who smashed her car with a crowbar during a road rage incident in Philadelphia, police said.

The 22-year-old man was involved in a road rage incident with a 27-year-old woman at the intersection of 30th and Chestnut streets shortly before 5:30 p.m. on Wednesday, according to investigators. During the incident, the 22-year-old man pulled out a crowbar and smashed the woman's passenger side window, police said.

The woman, who is legally armed, pulled out a gun while inside her car and opened fire, shooting the man at least once in the groin, according to police…

No arrests have been made in connection to the incident…

David Chang, "Woman Shoots Man Who Smashed Her Car With Crowbar, Police Say," NBC 10 Philadelphia, May 24, 2023.
Chicago, Illinois, May 24, 2023 (WGN-TV)
The incident happened around 1:45 a.m. Wednesday in the 300 block of North Mayfield.

Police said the 78-year-old former officer witnessed a 52-year-old neighbor being carjacked and attempted to intervene. The offender fired at the retired CPD officer, who then returned fire. Police said the 78-year-old suffered a graze wound to the thumb.

The offender attempted to flee in the neighbor's Jeep but crashed into a parked vehicle in the 600 block of North Waller, according to police. The suspect then fled the scene…

Glenn Marshall, Marisa Rodriguez, and Dana Rebik, "Retired Chicago officer shot while attempting to stop carjacking on West Side," WGN-TV, May 24, 2023.
Stoughton, Massachusetts, May 24, 2023 (WCVB)
According to police, an argument between Kieu and another man at the 7-Eleven on Washington Street in Canton at about 9 p.m. Wednesday led to a shooting and a crash that happened at the intersection of Plain and West streets approximately 15 minutes later.

Stoughton police said the man stated that Kieu pointed a gun at him while in the 7-Eleven, which prompted him to run to his friend's car, a black Nissan Altima, and told the other three occupants of the vehicle what had happened…

Police said the Nissan eventually made it to the intersection of Pearl and Central streets in Stoughton, which is where witnesses said Kieu's vehicle crossed the double-yellow line into the opposite lane of traffic and pulled up to the Altima. Witnesses told police that Kieu pointed a revolver at the four occupants of the Nissan.

The driver of the Nissan, whom police said has a valid license to carry and a properly-registered firearm, yelled for his friends to get down. Police said that the man driving the Nissan fired seven rounds into the Cadillac because he was "fearing for his life," and that one of the bullets struck Kieu…

The incident remains under active investigation, but Stoughton police said they do not plan on filing any charges against the driver of the Nissan at this time.

WCVB Staff, "Quincy man arrested in connection with Stoughton road rage shooting, crash," WCVB, May 27, 2023.
Dekalb, Mississippi, May 25, 2023 (WTOK)
Moore said 22-year-old Jermaine Smoot was shot and killed Thursday afternoon on Fork Avenue in DeKalb.

However, Moore said witness statements have raised questions about the circumstances. He said statements given point to Smoot allegedly pulling a gun on people inside a car and demanding money, then someone inside the car fired at Smoot, killing him. A person was taken into custody Thursday for questioning but was not charged…

WTOK Staff, "Update on fatal shooting in DeKalb," WTOK, May 26, 2023.
Houston, Texas, May 25, 2023 (Click 2 Houston)
The Harris County Sheriff's Office said one person is dead after a disturbance at a north Harris County smoke shop escalated to gunshots being fired.

The smoke shop is located in the 5000 block of W. FM 1960.

According to Sgt. Jason Brown with the Harris County Sheriff's Office, the incident happened at around 5 p.m.

Brown said a man entered the smoke shop and began attacking an employee. The employee attempted to run away from the man and exited the smoke shop, running down the sidewalk to a standalone emergency room.

At some point during the altercation, the man was able to take a stick away from the employee and began beating him with it. Brown said it was at this time the employee pulled out a handgun and shot the man multiple times.

The employee ran inside the emergency room where the man followed him and continued trying to attack him. Brown said the employee shot the man at least two more times inside the emergency room where the man then collapsed…

Brown said the entire altercation was captured on surveillance video and after reviewing the footage, they believe the shooting was justified.

The employee is cooperating with the investigation and authorities do not expect any charges to be filed. It will be submitted to the district attorney's office and reviewed by a grand jury at a later date…

Christian Terry, "Smoke shop employee fatally shoots man who attacked him in north Harris County," Click 2 Houston, May 25, 2023.
Pensacola, Florida, May 26, 2023 (WEAR-TV)
The person who shot and killed a 16-year-old in Escambia County last Friday will not be charged, after the Escambia County Sheriff's Office determined they acted in self-defense.

The Escambia County Sheriff's Office says the now deceased 16-year-old and his 16-year-old accomplice, Jamal Calvin Spurlock Jr., were attempting to buy methamphetamines from a homeless camp near Murphy Lane.

Upon finding out no one at the camp had any methamphetamines to sell, the two teens pointed guns at two victims, threatening to steal their belongings.

A male individual was called upon to assist the two victims, according to the sheriff's office. When he arrived, the sheriff's office says the teens pointed a gun at him.

Gunfire was exchanged, where one of the teens was shot in the head and killed.

Further investigation determined that the male individual acted in self-defense, resulting in a portion of the investigation being ruled as "Stand Your Ground."…

Kai DavisFri, "16-year-old killed in Escambia County shooting ruled 'Stand Your Ground' case," WEAR-TV, June 2, 2023.
San Antonio, Texas, May 27, 2023 (KSAT)
The shooting happened around 1:50 a.m. Saturday at an apartment complex in the 3600 block of Fairmeadows Lane.

SAPD said a 24-year-old man was woken up to the sound of his vehicle being broken into. When the man went outside the check, the suspects fired shots toward the man, striking him in the lower abdomen. He was taken to the hospital in serious condition.

The victim told police he did fire back and possibly struck one of them…

Victoria Lopez, "Man fires back at suspects who shot him while breaking into his car, SAPD says," KSAT, May 27, 2023.
Memphis, Tennessee, May 27, 2023 (WREG)
A victim allegedly turned the tables on a would-be attacker, who reportedly walked into a South Memphis store with a semi-automatic weapon.

Detectives say Aaron Brown, who can be seen in his mugshot with an arm injury, was shot by a shop owner just after 3 on Saturday afternoon. Brown allegedly went into a shoe-shine business on East McLemore armed with a semi-automatic weapon.

The owner told police he fired first to protect himself and those inside the store…

Detectives say Brown pulled his weapon during an attempted carjacking, telling the driver who was pulling into the lot, to "Leave it running, I'm taking it." Brown let the driver go.

Witnesses say the 21-year-old wasn't done creating chaos, as he then turned his attention to those inside the shop.

The owner turned the tables, firing at Brown. Witnesses say Brown stumbled out, making his way to a nearby church for help…

Jerrita Patterson, "South Memphis shop owner shoots armed man in store," WREG, May 29, 2023.
Chicago, Illinois, May 28, 2023 (ABC7 Chicago)
The incident occurred Sunday in the 7600-block of South Cicero Avenue.

Police said the 24-year-old victim was approach by the two suspects, one of whom produced a handgun and fired. The victim returned fire and shot one of the suspects in the thigh, police said.

Police said the victim is a valid FOID/CCL holder…

ABC7 Chicago Digital Team, "Chicago police: 2 charged in carjacking attempt near Ford City Mall where victim shot suspect," ABC7 Chicago, May 30, 2023.
Knoxville, Tennessee, May 29, 2023 (WBIR)
The Knoxville Police Department has released more details about a shooting at Victor Ashe Park on Memorial Day.

At around 4:45 p.m., the gunshot victim arranged a sale with two others in the park. The victim and another person attempted to rob the two individuals, according to KPD.

The victim was shot during the attempted robbery, KPD said.

The two individuals were arrested and detectives have identified those involved. No charges have been filed yet, according to KPD…

WBIR Staff, "KPD: Man shot at while attempting to rob two people at Victor Ashe Park," WBIR, May 29, 2023.
Little Rock, Arkansas, May 29, 2023 (FOX 16)
A shooting in a River Market parking garage after a family visiting from out of state was attacked…

This father, his pregnant wife, and their two girls were packing their car in a river market parking garage when they got attacked.

According to the police report, the wife said her husband was hit multiple times and tackled to the ground by another man.

Then, that person went to the driver's seat where he struck the wife…

The report states the wife pulled out her gun and shot the person in the neck…

The father said he is thankful his wife was carrying and was able to protect the family…

Rylie Birdwell, "Family visiting from out of state speaks out on River Market shooting," FOX 16, May 31, 2023.
Huntsville, Texas, May 29, 2023 (KBTX)
Huntsville Police say at 7:30 p.m., officers responded to a shooting at Mr. Nice Guys, a wellness shop that sells CBD and smoking accessories located on Highway 30. They found a person with several gunshot wounds inside the store and he was taken to the hospital.

Investigators learned through statements and video footage that the suspect came into the store, attacked the attendant and was subsequently shot. The suspect later died from his injuries.

Michael Martinez, the owner of Mr. Nice Guys in Huntsville, says his employee shot the suspect in self-defense…

Donnie Tuggle, Katherine Griffith and Adrienne DeMoss, "1 killed in shooting at Huntsville business," KBTX, May 29, 2023.