With Montana Governor Greg Gianforte signing HB 102 into law on Thursday, February 18th, 2021, 2021, Montana now allows to open carry, carry concealed without a permit, or carry concealed with a CWP, in a bank, a restaurant with a liquor license, or a bar. Thirty-four states now also allow people to carry concealed in bars.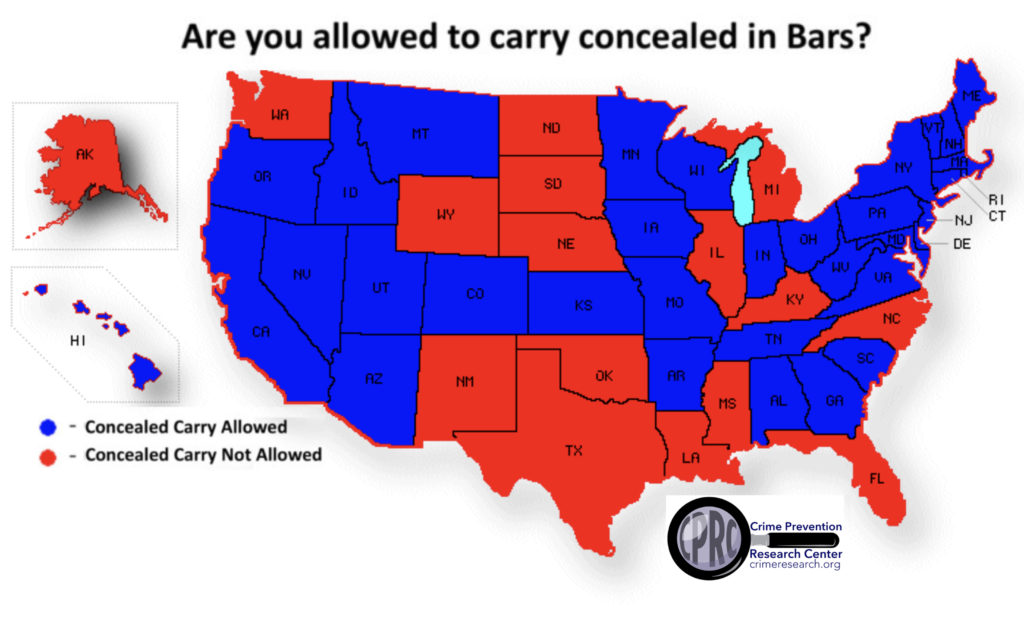 While you are allowed to carry in places that serve alcohol, states vary by whether you are allowed to drink alcohol when you are carrying.
What are the benefits to people being able to carry concealed in restaurants and bars?
As the CPRC's Nikki Goeser noted in a 2014 op-ed piece that she had a Fox News:
In April 2009, my husband was shot seven times in front of me in the middle of a busy restaurant by a man who was stalking me. I have a permit to carry a handgun, but because of the law at that time in my home state of Tennessee, I had to leave the gun that I usually carried for self-defense locked in my car that night. . . .

Nikki Goeser, "How gun control helped a stalker kill my husband," Fox News, May 7, 2014.
She would also note: "Stalkers and murderers go to those places where they know that their victims are defenseless. Gun-free zones serve as a magnet for these attacks. I don't want what happened to me to happen to anyone else. Montana is the only state that bans concealed carry in restaurants that serve alcohol."
Banning carrying in bars is much more common, but there are no real reported problems with people carrying in restaurants or bars. In fact, the opposite is true.

A couple of weeks after the Orlando massacre Pulse Nightclub, where 49 people were murdered, a man, 32-year-old Jody Ray Thompson, started shooting at others at another nightclub. Fortunately, unlike Florida, permitted concealed handguns were allowed in bars in South Carolina. Before he could shoot a fourth person, that man, a permit holder, was able to shoot back, wounding Thompson in the leg.
Jody Ray Thompson, 32, of 15 Lake Vista Drive, has been charged with four counts of attempted murder, possession of a weapon during the commission of a violent crime and unlawful carrying of a weapon. . . .

Three people were shot. Another man who was shot at returned fire with his own handgun and struck Thompson in the leg, he said.
He acted in self-defense and has a concealed weapons permit, so he's not being charged, Bobo said. . . . .

Daniel J. Gross, "Lyman man charged following shooting at nightclub," GoUpState.com, June 27, 2016.
Also this
and at least one South Carolina sheriff [is] crediting a man with a concealed carry permit with preventing further violence at a nightclub . . .

Staff, "Deputies: Man opens fire in S.C. bar, draws return fire," Fox 5 (Atlanta, Georgia), June 30, 2016.
There are other mass public shootings that have been stopped by people legally carrying guns in places that serve alcohol.
Dallas, Texas, July 25, 2020, Fox 4 News (Dallas)
Dallas police said three men were shot and a woman was hit by shrapnel when someone opened fire outside a sports bar in North Oak Cliff Saturday night.

The shooter was reportedly among three men who were turned away from Harris House of Heroes II sports bar, just before midnight, because the establishment was at full capacity. . . .

Police said the shooter went to the back of the sports bar, where he was "confronted by armed partrons," and they exchanged gunfire.

The shooter fled before police arrived, and remains at-large

David Sentendrey, "4 injured in shooting at Dallas sports bar after men not allowed in due to COVID-19 restrictions," Fox 4 News (Dallas), July 26, 2020.
Oklahoma City, Oklahoma, Thursday, May 24, 2018
Two men who had handguns in their cars, Juan Carlos Nazario, 35, and Bryan Whittle, 39, stopped what likely would have been a mass shooting at Louie's Grill & Bar in Oklahoma City. Police Capt. Bo Matthews said: "You can say they're heroes, which is a very good thing to say." Nazario is a security guard, and Whittle could legally carry a gun openly without a permit (it is unknown whether he had a concealed handgun permit, though it wasn't necessary for this case). Alexander Tilghman shot at people "from a position outside the front door" of the restaurant. It was in that position that these two heroes stopped him. Whittle's shot killed the gunman.
From USA Today:
The two, police say, prevented what could have been a deadly attack Thursday night after they armed themselves and took down the shooter, Alexander Tilghman. Both say they don't feel like heroes. . . .

Christal Hayes, "Armed citizen who shot Oklahoma gunman told worried crowd, 'I'm here to help'," USA TODAY, May 25, 2018.
The police captain also said this:
"They were able to shoot the suspect and put an end to a very dangerous situation," Mathews said.
The way that the attack was stopped was described this way:
"Drop the gun!" [Nazario] yelled repeatedly. Tilghman didn't respond. He raised the gun again and fired a round in the parking lot.

Nazario fired two shots. "He just fell to the ground."

Despite a restaurant full of innocent lives potentially saved, Nazario said he doesn't feel like a hero.

"I just can't understand being called a hero when someone's life was taken," he said. "I just did what I had to do. I'm very glad no innocent lives were taken but ultimately, there was a life taken." . . .
Both Alexander Tilghman, the killer, and Juan Carlos Nazario were security guards. We will continue to check whether Whittle had a concealed handgun permit.
The District Attorney issued this statement: "The two civilians who engaged, and ultimately neutralized the threat posed by Tilghman, were justified and compliant with the law when they employed deadly force."

Arlington, Texas, May 3, 2017 (Dallas Morning News)
This attack was stopped before more than one person was killed. Yet, the police spokesman made it clear that the concealed handgun permit holder "prevented further loss of life" and that the killer was "shooting at the front door" at the customers who were fleeing the restaurant. The headline on the Dallas Morning News story was: "'Hero' stopped mass murder by crazed bar patron who was armed to the teeth, police say." Emphasis added in quotes below.
A concealed carry holder is being heralded as a "hero" by Arlington police for preventing mass murder by killing an "incoherent" gunman at a bar Wednesday evening.

Before he was shot about 6:15 p.m., the gunman killed the manager of Zona Caliente in the 6500 block of South Cooper Street, police spokesman Christopher Cook said.

Police later identified the gunman as 48-year-old James Jones of Grand Prairie and the victim as 37-year-old Cesar Perez of Duncanville. The man who killed Jones has not been identified.

Authorities later found two loaded guns and two knives on Jones, Cook said Thursday.

"We do believe he had the capacity to do much greater harm," Cook said.

"After he was struck once, the suspect started shooting at the front door," Cook told the Arlington Voice. "We know people were trying to escape, but we're not sure if he was just trying to harm others."

More than a dozen customers and a handful of employees were in the sports bar at the time of the shooting.

Cook said the customer, who was dining with his wife, "prevented further loss of life." . . .

Marc Ramirez and Liz Farmer, "'Hero' stopped mass murder by crazed bar patron who was armed to the teeth, police say," Dallas Morning News, May 4, 2017.
Another story in the Arlington Voice mentioned this:
"Had the Good Samaritan not intervened, there could have further loss of life," Cook said.

Jones did not have a license to carry. . . .

Zack Maxwell, "Shooter acted strange before taking Arlington bar manager's life," Arlington Voice, May 4, 2017.

From the Fort Worth Star-Telegram
"because he engaged the shooter there was no further loss of life."
Plymouth, Pennsylvania, September 2012
The article by Bob Kalinowski Citizensvoice.com states:
. . . It's the gun prosecutors said Ktytor used to put an end to a 26-year-old man's shooting rampage on Sept. 9, 2012 in Plymouth.

Ever since Ktytor, who has a concealed carry license, dropped the killer with several shots on Main Street in Plymouth, . . .

In October, the murder suspect, William Allabaugh of Plymouth, pleaded guilty to third-degree murder and attempted murder, then was sentenced to 25 to 50 years in state prison.

Authorities say Allabaugh critically wounded Stephen Hollman, 30, by shooting him in the head inside Bonnie's Food and Spirits on Main Street. A short time later, Allabaugh fatally shot Scott Luzetsky, 39, outside the bar. Police said both victims were innocent bystanders who didn't provoke the attack by Allabaugh, who was angered he was being kicked out of the bar.

Bob Kalinowski, "Man who ended Plymouth shooting rampage wants gun back," The Citizen's Voice (Wilkes-Barre, PA), March 5, 2014.
More importantly, see this (emphasis added):
"The video footage and the evidence reveals that Mr. Allabaugh had turned around and was reapproaching the bar. Mr. [Ktytor] then acted, taking him down. We believe that it could have been much worse that night," Luzerne County A.D.A. Jarrett Ferentino said.

Lara Greenberg, "Guilty Plea Entered In Plymouth Shooting Death," WNEP ABC Channel 16 (Moosic, PA), October 15, 2013.
Winnemucca, Nevada, May 25, 2008, KOLO ABC Channel 8 (Reno):
. . . Winnemucca Police Chief Bob Davidson says the violence erupted around 2:30 A.M. Sunday when a man entered the crowded Players Bar and Grill. He fatally shot two brothers, 20-year-old Jose Torres and his 19-year-old brother, Margarito. The shooter was later identified as 30 year old Ernesto Villagomez. All three were from Winnemucca.

According to witnesses, Villagomez at some point stopped to reload his high-capacity handgun and began shooting again when he was shot and killed by another patron – a 48-year-old Reno man who had a valid concealed weapons permit. . . .

Staff, "Victims Released; No Charges Filed Against Reno Man In Winnemucca Shootings," Kolo TV, May 25, 2008.